Spring 2020 One Room Challenge – Week 8 – Final Result
It has been quite the journey! I could not be more proud of these past 8 weeks and all that we (my husband and I) achieved working on this project and participating in the Spring 2020 One Room Challenge. If this is your first time here, and you would like to check out my previous posts from the challenge, click below:
Week 1 || Week 2 || Week 3 || Week 4 || Week 6 || Week 7
This is the final week of the One Room Challenge, It has been sweet to participate in this process and be able to share experiences with you and the other ORC participants.
The One Room Challenge is a neat avenue to share and support fellow remodelers on their projects and designs. It also works as a great way to spread creativity and inspiration to others, as well as an extraordinary motivation tool.
I love the feeling when I get something big accomplished. This is how I am feeling now, so happy, excited and relieved that we have a brand new powder room and mud room. But let me tell you, this was not an easy breezy week of work. We got it done in the last possible second. We had guests coming to our house for an Independence Day party. As the guests were pulling in the driveway, I was finishing caulking the baseboard and trim, phew!
So let me recap and give you the play by play. Our tile guy finished the turquoise herringbone pattern tile. Wow, what a show stopper! The tile is what my little two rooms needed, life and color. This flooring certainly accomplished that and more. the contrast between the blue tile and the light grey grout is perfect. 
PRO TIP: "When possible, in high traffic areas, select a grout color that wears well with time. Bright white is beautiful, but it ages fast as dirt and grime are easily visible as they build up. Light grey and taupe colors hide the everyday wear and tear much better. You will still get the contrast or complement you desire but with much less deep cleaning maintenance".
With the floor done we tackled the peel and stick wallpaper. When most people hear peel and stick wallpaper they think of that first generation of it, that was low quality and really cheesy. Let me tell you, the feel and stick wallpaper game has changed so much. This wallpaper looks and feels like high-end regular glue-on wallpaper. It's thick, it has texture and body, cleans well, and you can't beat that awesome bold print. The quality is great, the install is easy, any DIYer can do it, and the tear off is painless and simple.
PRO TIP: "Lots of people run the other direction when they hear wallpaper, mainly because of the hassle it is to remove it. With peel and stick you don't have to worry about that, you can be as adventurous as you want, you can try that bold trend, and in 5 years when the trend is over, removal is a breeze. It's perfect for renters, kids rooms, statement walls, you name it."
Tile, check, wallpaper, check, now we were ready to set the new vanity and connect the pluming to it. We had to make a few modifications on the bottom of the vanity to accommodate the water lines, but nothing that a saw could not do. Next was placing the mirror in the perfect place to allow our electrician to run power to the mini pendant lights on each side of the mirror. The pedant lights were like the perfect earrings that really sets off a girl's outfit. They are simple, but without it the whole look is incomplete.
Next on the list were the door and trim. Now this is the part that I wish we had hired a professional. Long story short, It took me and my husband 5 hours to install 2 doors (door and frame) and I wish to never hang a door ever again! Nothing is ever level, square or straight! The good news is that they look great and updating old doors and trim instantly change the whole space. I'm glad we did it, but i'm also even more glad that it's over.
The last steps were setting the toilet, hanging the tower and toilet paper holder, and accessorizing the space. And now my bathroom is done!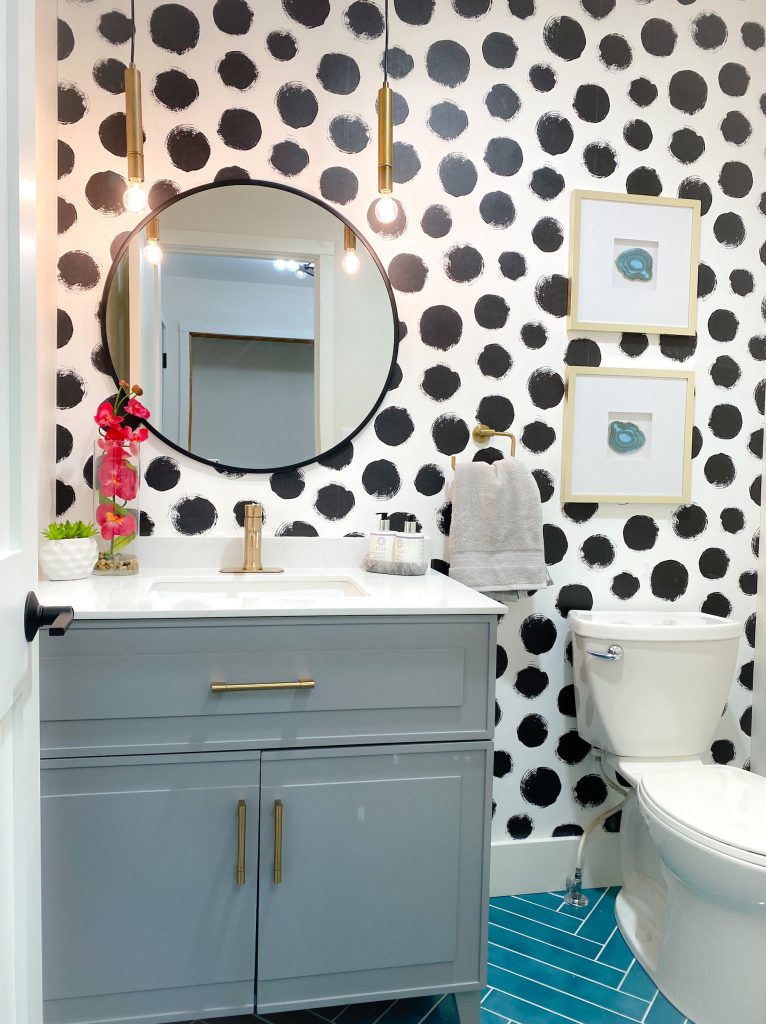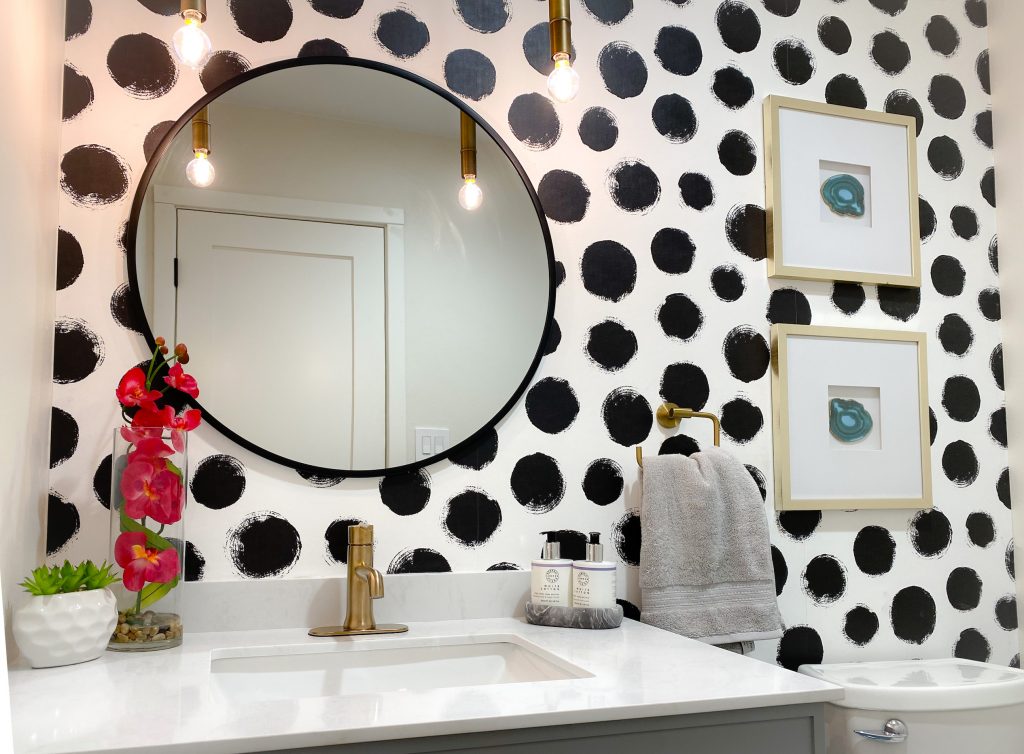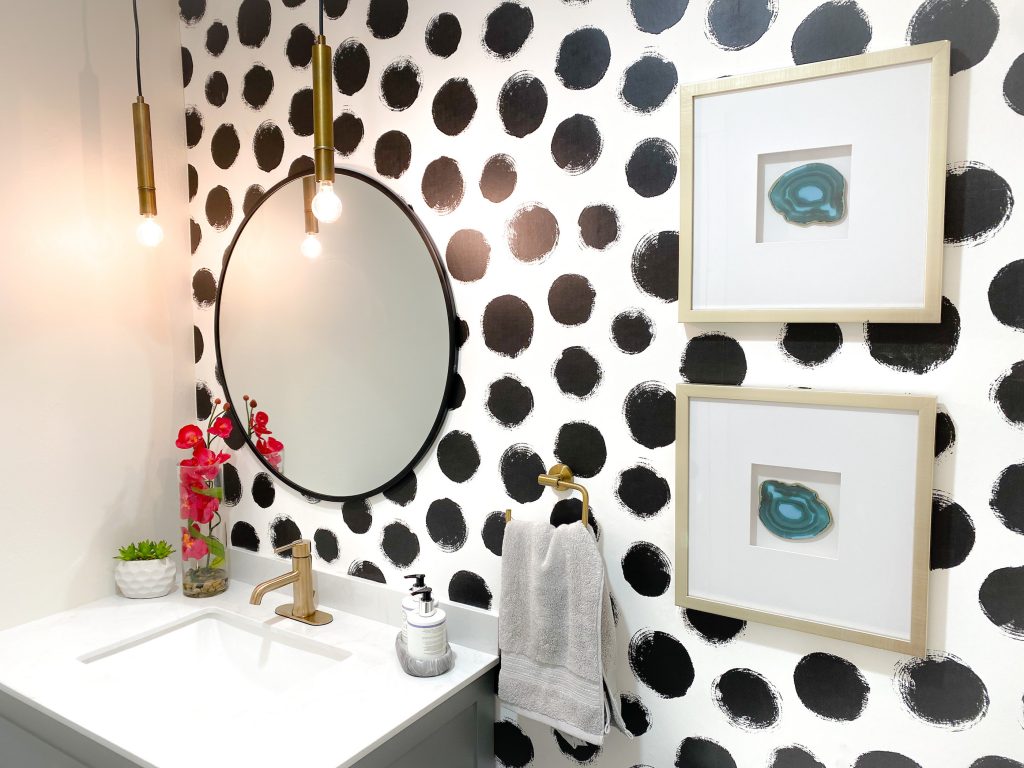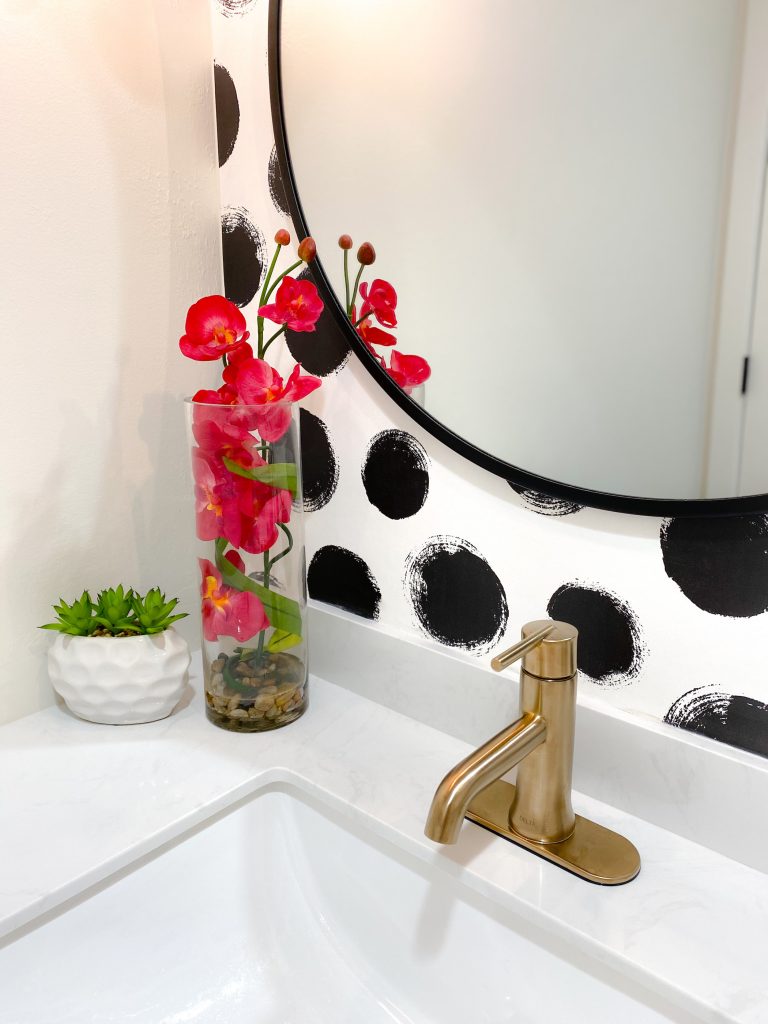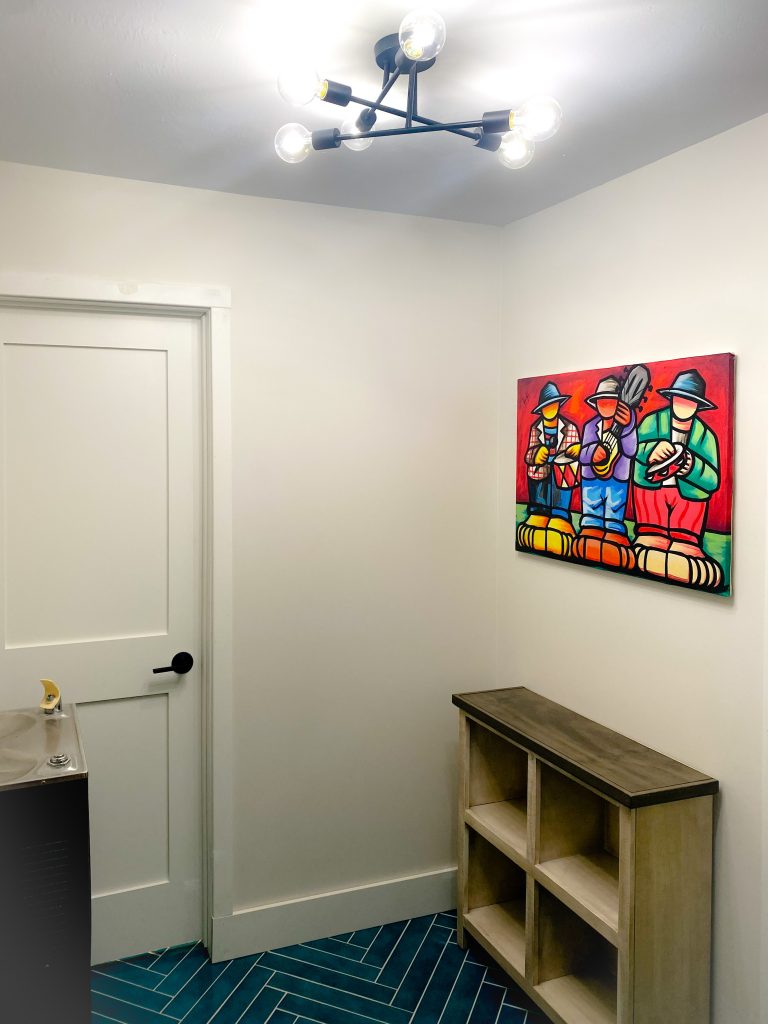 I am so in love with the space that I find myself hanging out in my powder room and mudroom just because! I got tons of complements during our party!