Spring 2020 One Room Challenge – Week 4 – Blank Slate
Welcome to week 4 of the One Room Challenge! It has been quite fun to go through this process and be able to share experiences with you and the other ORC participants. If this is your first time here, and you would like to check out my previous posts from the challenge, click below:
Week 1 || Week 2 || Week 3 || Week 4 || Week 5 || Week 6
The One Room Challenge is a cool avenue to share and support fellow remodelers on their projects and designs. It also works as a neat way to spread creativity and inspiration to others, as well as a great motivation tool.
We've made quite the progress this week. The demolition phase is DONE. The vanity is gone, the cabinet, toilet, mirror, and the tile flooring are also gone. And let me tell you, removing 30 plus year old tile is no small task. That tile was very attached to the house! So much so, that we are having to install new backer board to the sub floor. The backer board was coming out with the old tile, so we removed it all and a replacement is in order.
Unforeseen things like this is the reason why any construction project should always have what I like to call an "oops allowance" in the budget. There are always unexpected things that happen in any project. Having an allowance for those things takes off the homeowner's pressure and stress, making things run smoothly. Since I already had set my oops allowance in my budget, this small hiccup was no big deal. And let's be real, I doubt that this will be my only stumbling block to overcome. But I've got this, I'm prepared (cross your fingers)!
All the demolition was done by my husband, my brother-in-law and me. When I am doing a project in my own house, and I am looking to save some money, I know that I can lower my costs if I do my own demo. Doing this part yourself saves quite a bit of labor money. Labor can be up to 50% your budget. Are you surprised? Well, it is the truth that most people don't seem to know – skilled labor is not cheap – (there, I said it!). So, for my budget conscious clients this news can be quite shocking. But there are ways to navigate around it.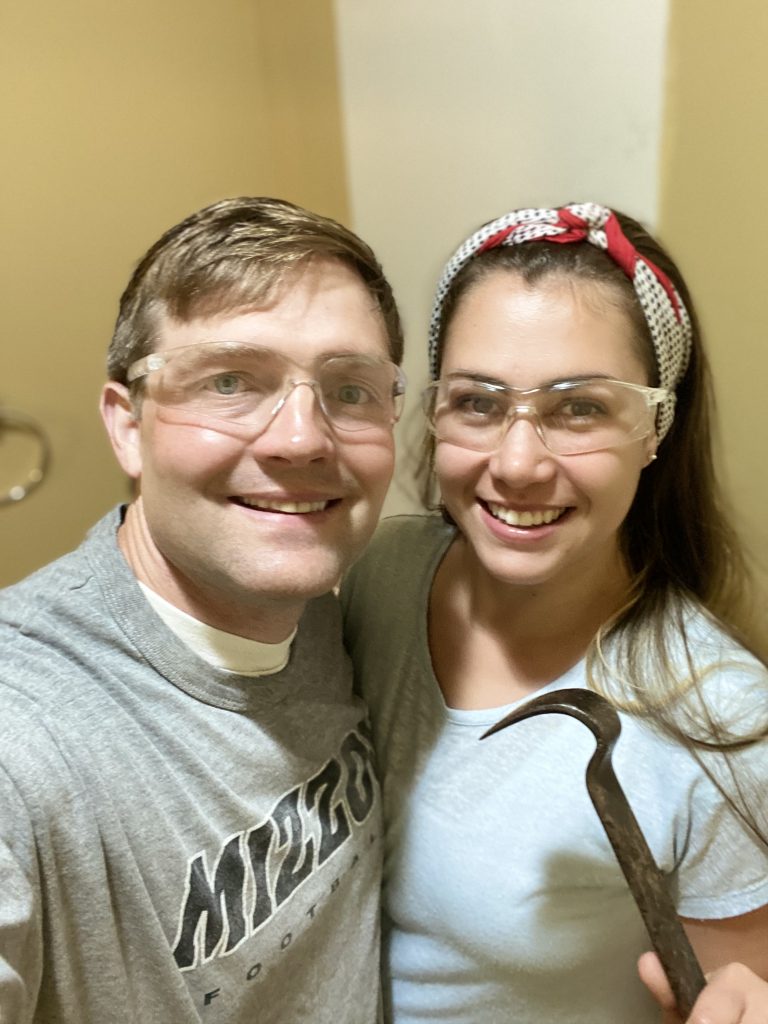 I always tell my clients that are looking to save and are up for the challenge: Anyone can destroy things, but most people can't build it back up. Doing some demo can save you some money and be fun! You might even save some money on your therapist, since you can release all your frustrations getting that tile out. LOL
So here's the tip of the day:
If you are wanting to save some money by doing some DIY, save it with your demo, and not on the construction, because most definitely it will end up costing more.
Overall, I am pleased with our progress. We have a blank slate are ready to start putting the room back together! See you next week!