eDESIGN vs. Traditional Interior Design: Part 1 of 2
So… you are planning to update your home. Perhaps you want to give your guest bathroom a much-needed update, convert an unused room into a media room, or the red oak cabinets and beige tile flooring in your kitchen just HAVE. TO. GO.
You have decided you need help. But, how much help do you need? Since I offer both traditional interior design services and eDESIGN, most ask which is the best option for their project.
This is part 1 of a 2 part series. In this installment, I am focusing on when you should select eDESIGN.
eDESIGN is an online-based design package with the DIYer in mind. These fixed-cost packages give the client a professionally designed room plan with resources to complete in their own time frame.
Clients begin the process by sending in photos and drawings with measurements. They answer a detailed questionnaire on their design style, how they plan to use the space, color likes/dislikes, etc. Inspiration photos in the form of Houzz projects or Pinterest boards are encouraged.
Within a couple of weeks, you will receive two inspiration board concepts to make sure we are on the right track with your room.  Once we get the go ahead, you will receive your interactive shopping list, floor plan, 3-D illustrations, and a shopping list with links for purchasing. Instructions for how to style the space or other suggestions will also be included. The client then implements the plan on his/her own.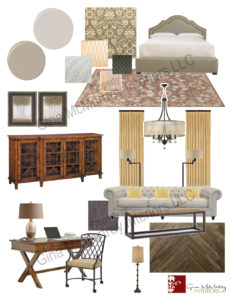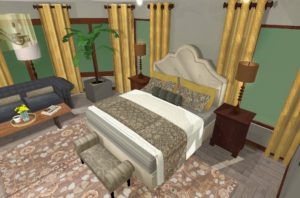 When is eDECORATING the best option?
General redecorating projects
eDESIGN works best for spaces that simply need a style overhaul. Specifying new paint or wallpaper, changing out furniture or draperies, updating lighting and art selection are just a few of the standard components. Products are sourced through online providers for convenience. Architectural changes are minimal.
Clients on a budget
These packages are offered at a fixed cost so there is no open-ended design time or uncertainty to how much design services will cost. Clients can take the shopping list and purchase the items (which have been selected to work within the budget set in the client questionnaire) during sales or promotions, or request items as gifts for birthdays or holidays. Clients who want to cash flow the project over an extended period of time can be assured that what they purchase on Day 1 will coordinate with what they purchase on Day 365 since they have a detailed, concise guide to guide them.
See what our clients have to say about how eDESIGN fits their budget and timeframe!
Renters
eDESIGN would be a perfect option for the renter looking to create a personalized, stylish space! Products can be selected that can be moved if needed and utilize multi-functional, space saving solutions. Many landlords welcome minor updates to their units, including paint or window treatments. Just be sure to talk with your property manager and consult your rental agreement before making any permanent changes to the space.
Here's an example of a small business eDESIGN Plan!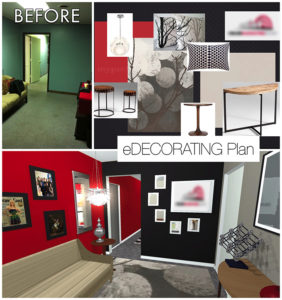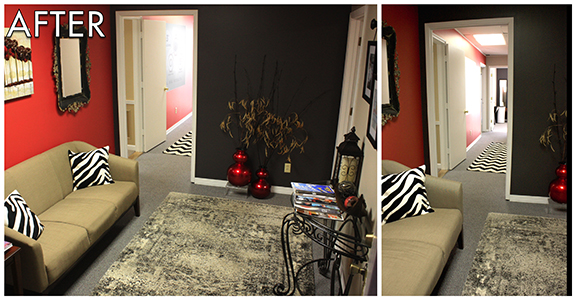 They implemented the plan with the blessing of their property manager and the space was transformed from bland to dynamic!
AirBnB / FRBO / Vacation Home Owners
Whether you are planning to use your vacation home for yourself or to rent out on sites such as AirBnB or VBRO (Vacation Rentals By Owner), eDESIGN is a cost-effective way to update your property and ensure that you're all set for rest and relaxation. Considerations such as maximum sleeping options, and furnishings or surfaces that will withstand environmental issues such as water or sand will be included. Plus, little details on amenities and special touches for your guests will be included.
What projects are best for eDESIGN?
Living Room / Family Room

Bedroom

Entry and Foyer

Children's Room

Media Room / Game Room

Kitchen (Superficial Changes Only)

Bathroom (Superficial Changes Only)

Dining Room

Home Office

Small Business Office

Staging / Prepare to Sell
When clients contact me for their design projects, they have often found me via HOUZZ, through a local magazine article, or via a referral from a previous client. However you found me, please contact us at info@gmi.design if you have any questions or would like to get started!