Why an eDESIGN Plan can make GMI Design Group your best friend.
Decorating a space can be a daunting task, especially if you're not familiar with the latest design trends, or if the sheer volume of options leaves you completely overwhelmed. But what if you could get a professional design plan without leaving your home or breaking the bank? That's where eDESIGN comes in. And when it comes to eDESIGN, GMI Design Group can be your best friend.
Here's why:
CONVENIENCE
With an eDESIGN plan by GMI Design Group, you don't have to go anywhere or meet anyone in person. All you need is a computer or mobile device and an internet connection. You can communicate with your designer through email, phone, or video chat, and review the design plan at your own pace.
So, if it's time to update your lake home that is located hours away, or you're moving out of state and still want our designers to make your new home uniquely yours, eDESIGN could be a perfect option!
AFFORDABILITY
We get it. Traditional interior design services can be more expensive than you are comfortable with. With eDESIGN, you can still get a professional design plan at a fraction of the cost. Our affordable flat-fee packages include a customized design plan, a mood board, a shopping list that you can click through and purchase from, and 3D images to help you put your plan into motion, even if it takes 3, 6 or 12 months to complete! That's a lot!
PERSONALIZATION
When you purchase an eDESIGN Plan from GMI Design Group, you get a personalized design blueprint that reflects your style, preferences, and needs. You provide our designers with photos of your space, measurements, inspiration photos you may have, and answer a pretty detailed questionnaire, and we will create a plan that meets your requirements. Your plan also gives you the opportunity to make changes so you're satisfied with the final result.
BTW, let's pause and talk about the 3D renderings for a second. With these, you'll be able to get a good look at what your space can look like when you make the recommended changes! You'll be amazed and how much a few key updates can transform a room.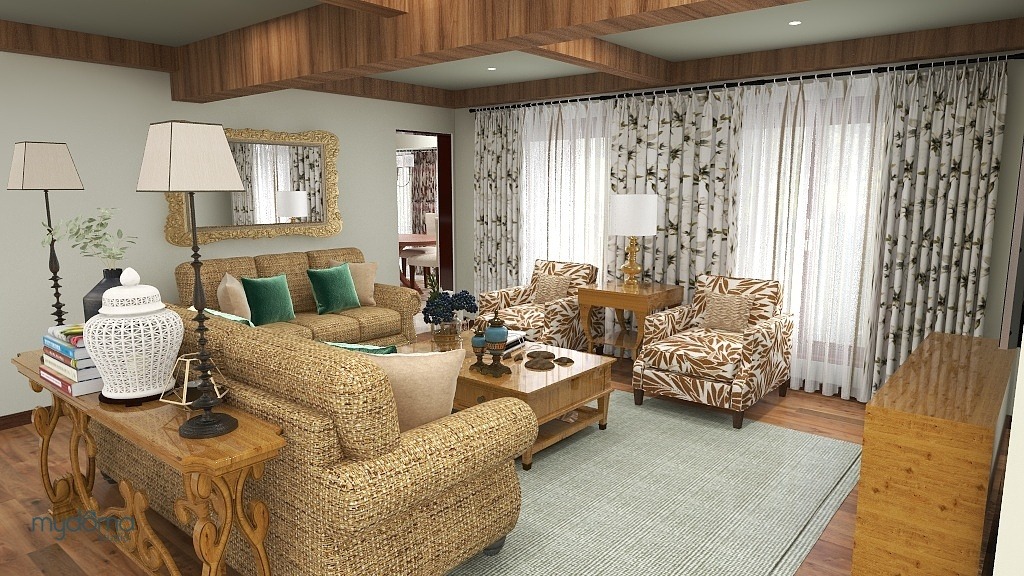 FLEXIBILITY
An eDESIGN plan gives you the flexibility to work on your project at your own pace. You can start and stop the process as you wish, and work on your project when it's convenient for you. If you get into it and discover that you need a little more help than you thought, we can step in and help you at whatever level of involvement you want…from a basic in-home styling session (if locations permits), a virtual consultation, or even help in selecting custom or trade-only products.
EXPERTISE
GMI Design Group has years of experience creating beautiful, award-winning interiors, and our designers are experts in the latest design trends and technologies. They can help you choose the right colors, materials, and furnishings for your space, and create a cohesive design plan that reflects your personality and style.
So, what do you think? Is an eDESIGN plan by GMI Design Group just what you need for updating your space? It's convenient, affordable, personalized, flexible, and backed by years of expertise. So let's be besties and get designing!