6 things to help make your thermostat happy this winter
Winter is here and making itself known. With the rising costs of…well…EVERYTHING right now, it's nice to have a few options to lower costs where you can.
This bedroom offers a few clues to things you can do (besides turn up the heat). Can you find them?
Don't worry…we won't keep you guessing. Below are six ways you can stay warmer in your home this winter.
1) Add insulated drapery lining

It's common for drafts to come in around windows. However, most pre-fabricated drapery panels come with a simple, thin lining or with nothing at all. Adding an insulated lining can reduce heat loss by as much as 25-35%!
Simple, quick insulated liners are available via Amazon, but although they do give some barrier to cold drafts, they tend to not be as attractive as other options. Plus, their installation may change the draping and pleating of your fabric.
A skilled workroom can add insulated lining onto your existing draperies permanently or with removable snaps, rings, or tape. Three good options for either stand-alone or added lining to your drapery would be:

• Thermal Suede Lining* — This thin material offers superior insulation while allowing some light penetration. Perfect for printed fabric drapery.
• Flannel Interlining* — Similar to the lightweight flannel sheets your grandma used, this supple lining goes between the face fabric and standard lining. Flannel Interlining has been shown to reduce heat loss by 25%.
• Bump Cloth* — Used in Europe's cold-climate country homes, Bump Cloth offers the most insulation for cold and sound. It also gives a nice weight and drape to fine fabrics, such as silk.
2) Change bedding to include a duvet with down-filled comforter
Down has always been the preferred insulator when worn or for while sleeping. Body heat is trapped between the little fluffs of down, creating a re-generating heat source that will keep you warm all night long. There are different weight levels available — even dual-zone comforters for bed partners with different sleeping temperature preferences! The best down originates from birds from the coldest climates, such as Hungarian or Siberian geese. Plus, using a duvet allows you to change your room's look easily from season to season or from one style to another without having to reinvest in a quality insert.
3) Use a humidifier
Cold, winter air is notoriously dry, often leaving your home's humidity around 10%…far short of the ideal of 30-40% Having the correct humidity levels not only provides additional warmth to a house, but it also has many other benefits such as reducing allergens, reducing the risk of furniture damage, and controlling static electricity.
4) Add a wool rug to bare floors
Aside for the obvious (that rugs are warmer than tile or wood), wool rugs in particular are a natural insulator similar to down. They're hypoallergenic, provide moisture, and are incredibly durable, along with many other wonderful natural benefits. Well-kept wool rugs can be handed down through generations. Even better than an area rug would be wall-to-wall wool carpeting, although this is one of the most expensive carpeting options available.
5) Change the direction of your ceiling fans
Most fans spin and pull air up to the ceiling. By simply reversing the direction of your ceiling fan and pushing the rising heat back down into your living space, you can save as much as 10% on energy costs.
Ceiling too high to manually change blade direction? This may be a good time to replace your fan with one with a built-in remote control.
6) Reinforce drafty areas
Cold air has that way of just sneaking into a house. There are some logical areas, and some fairly easy off-season fixes, that can reduce these chilly intrusions:
• Windows — Take a candle or incense stick to the window on a breezy day. Move around the frame, inside and outside of the trim, and see if the smoke moves. If it does, you have a draft spot. Use paintable caulk for around the trim and silicone caulk outside if you can. There are window weatherstrips available at most home improvement stores as well. And, as stated above, insulating your window draperies can help keep the draft from entering the room.
• Doors — The old, simple solution is a draft dodger (shown above)… a fabric tube filled with sand or rice that lays along the bottom of your door. Etsy has some fun and stylish options. The best option, however, is to replace the weather stripping around your door, including the threshold strip. A great site for a how-to on DIY weatherstripping is found here. Use the candle/incense trick to find vulnerabilities around handles and locks, too!
• Other areas — Places that you might be surprised to find either cold air entering or warm air exiting would be the attic fan grate, as well as light/electrical boxes.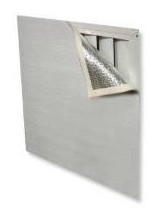 Cover the attic fan with an insulated cover during the winter months to keep that precious warm air inside your home. Attach magnetic strip for quick installation and efficient insulation.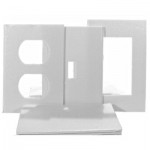 Electrical outlets, especially those on exterior walls, can also seep cold air. Remove the cover and add a foam insulator, such as these found at Home Depot.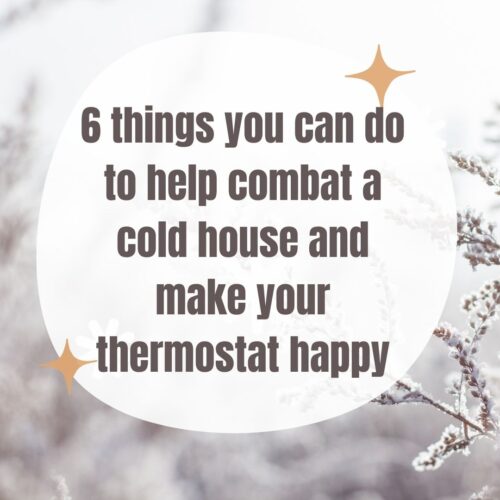 In addition to these DIY-friendly home insulating tips, simply setting your thermostat 1-2 degrees cooler can help you save around $10/month on energy bills! Grab a cozy throw blanket and put on on some chicken soup to warm you up from within!
---
All shown items are available through GMI Design Group.