Know your options when it comes to wood flooring
This blog post was written by our friends WoodandBeyond from across the pond!  Thank you for sharing your knowledge!
---
YOUR OPTIONS WHEN IT COMES TO WOOD FLOORING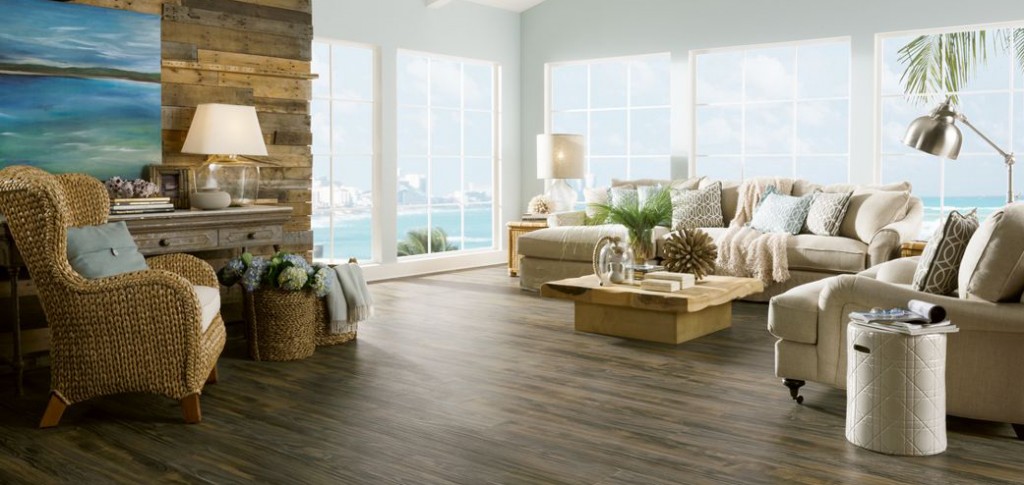 Wood flooring has changed profoundly in recent years. In this blog article, we aim to simplify the process of choosing wood flooring for your interiors.
Origin Of The Wood
In recent years, more and more individuals have voiced a legitimate concern about the demise of natural habitats. When it comes to wood flooring, individuals were concerned that their decision to specify natural wood is responsible for deforestation. In actuality, most wood flooring—and in particular FSC approved products, originate from managed forests.  That means that strict guidelines are in place as to when and how many trees can be logged. Furthermore, those landowners replenish the forest on a scale of three new trees for each tree that is logged, hence 'managed'. If you have any concern about the origin of the wood from your local supplier, ask them directly as to the origin.
Types Of Wood Flooring
There are two types of floorboards that contain hardwood and therefore fall under the definition of wood flooring. One is called solid wood flooring, while the second is called engineered wood flooring.
Solid Wood Flooring
Each floorboard is made from whole hardwood. Besides a layer of protective coating, no other material is used. The solid type suits most areas of the interior, with the exception of humid, wet or warm areas. In such conditions, wood expands (in warm conditions) causing the floorboard to 'rise', or contracts (in wet or cold conditions) causing the floorboards to misshape.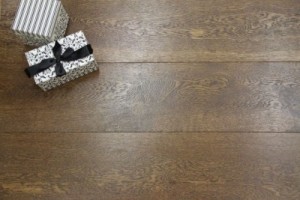 Engineered Wood Flooring
Each floorboard is made from a top layer of hardwood in typical thickness of 3mm to 6mm thick, while the bulk of the floorboard is made from MDF, Plywood and Softwood. The result is a type of wood flooring that suits all areas of the interior, even wet areas such as the kitchen and bathroom areas, below grade spaces such as basements, and in warm conditions when under floor heating is fitted.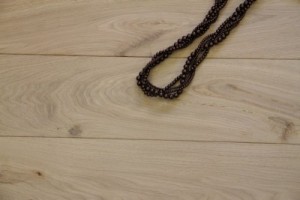 Wood Flooring Coating
Unless you particularly decide to fit unfinished wood, each floorboard is covered in thin chemical coating that is designed to protect the floorboard from wear and tear. It also gives the floorboard a certain finish such as matte or gloss. There are two common types of coating that most suppliers stock.
Oil Coating
Oil coating is the most popular. Not only is the coating durable, it is incredibly easy to maintain. The oil liquid is light enough to flow into the wood thereby making the coating less affected by daily wear and tear such as foot traffic. Oil coating will often result in matte finish.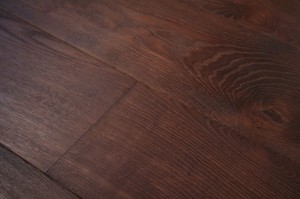 Lacquered Coating
Lacquer coating is often used when the floorboard requires extra protection. Unlike oil, lacquer is thick and won't flow into the wood. It makes this coating quicker to wear, but it is better at protecting the floorboard. It is often used to reduce damage from UV light (when the floor is exposed to direct sunshine) and damage from water (when wood flooring is fitted in the bathroom for example). Lacquer coating will often result in a glossy finish, depending on the number of coats that were applied.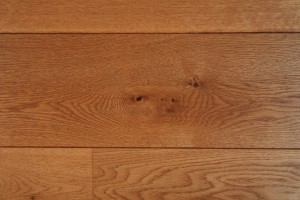 Wood Flooring Grades
Floorboards that are made of real wood flooring not unexpectedly include natural features. These are color variation, sapwood, knots and grain markings. In some interiors, these features are wanted, in others a more equal look is desired. Therefore, nowadays you have four grades to choose from, each containing a varied level of natural features.
Rustic Grade (Also known as 'country' or 'farmhouse' grade)
Each floorboard of the rustic grade features plenty of sapwood, knots, color variations, heavy grain markings and figuring.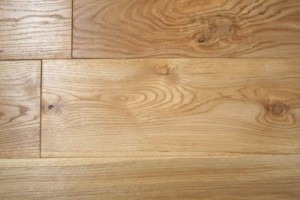 Natural Grade
Each floorboard will also display a variety of knot sizes, color variations, shapes, some grain markings and figuring, but on a smaller scale.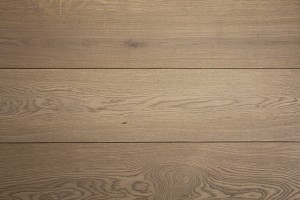 Select Grade
Also known as 'Mill-Run' grade, each floorboard will present a more uniform look. It means that knot content is low, color variation is minimal and overall character marks are limited.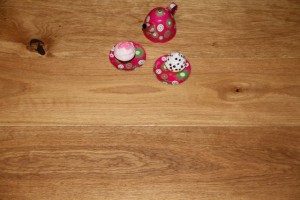 Prime Grade
Also known as 'A B' or 'Premier' grade, it is often available in limited supply. Colors will closely match and sapwood, knots & natural features will appear only on a small scale.  It is naturally the most expensive of the four.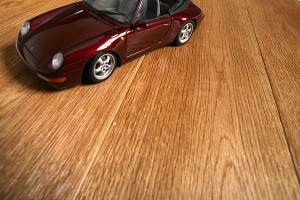 Article and images provided by 
Jonathan Sapir
Managing Director of 
WoodandBeyond.com
, London UK
For more information on which wood floor product is the best for your home design project, contact Gina McMurtrey Interiors.