What makes one glass tile better than another?
Have you ever wondered what the difference is between the glass tile mosaic that you find at big box stores and that found at specialty tile suppliers?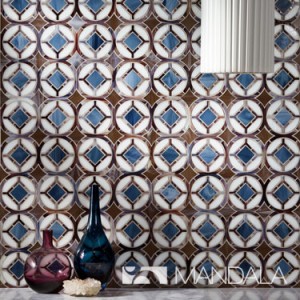 As in many things, the proof of quality comes down to detail in manufacturing, uniqueness, attention to detail and the support given by the manufacturer.  Oceanside Glasstile® is one of those companies that provides all the above with a very interesting back story as well.
At a educational breakfast this morning, I learned a lot about what makes Oceanside Glasstile® superior to many readily available glass tiles that you can find at Lowe's, Home Depot or other discount outlets.
 Their firing and cutting is done by hand, so attention to quality start at the beginning.
All processes are done to ensure the strength and integrity of the tile from the center to the edges as to minimize the chance of delicate edges chipping, or the face glazes chipping or splitting.
They have a wonderful customizable mosaic program with many exotic and geometric designs!  From large scale gradients to their stylized Devotion line, each aspect of the design can be customized with their broad color palette to create a unique mosaic. They even have a

template-building page

so you can play with colors, styles, finishes and see what your custom mosaic pattern will look like!

Oceanside Glasstile® Devotion: Vogue Pattern

Oceanside Glasstile® Custom Blend Tool allows you mix and match colors to match your space

Their trim pieces—such as bullnosing, crown caps, braided or patterned liners—provide a smooth, professional finish to any installation.
The strength of the tile and glazing is suitable for interior and exterior installations, as well as even floor applications!
Their product reps are really knowledgable!  Try asking a by-the-hour employee at the big box store about what cleaner will not etch or dull or even remove the glazing of the tile based on the condition of the area, what kind of water is used in the pool, etc.  These people know their stuff and care about your tile staying beautiful for years and years!
There's also a lot of really interesting dimensional field tiles, metallic glazing, opalescent glazing, and matte glazing for thousands of design combinations!  It's hard to not be excited about a custom tile solution with their gallery of fantastic pools, bathrooms, commercial and residential projects!
Here are a few of my favorites:
(All photos via Oceanside Glasstile®)
•
Are you planning to add glass tile to a bathroom or kitchen?  How about a fun custom pool liner?  

Contact us

today to schedule a design consulation!