Affordable interior design help for the DIYer is available through eDECORATING!
So you have that room…the room that has remained unfinished and uninspired for what seems like forever.  You just CAN'T. SEEM. TO. GET. A VISION.  However, although hiring an interior designer sounds like just what you need, open-ended design time seems scary and out of your budget.
eDECORATING is geared for those homeowners who need a design game plan that can be implemented at their own speed.  Plus, this package design plan is available at a reasonable one-time cost, so you know exactly what you are going to pay for design services.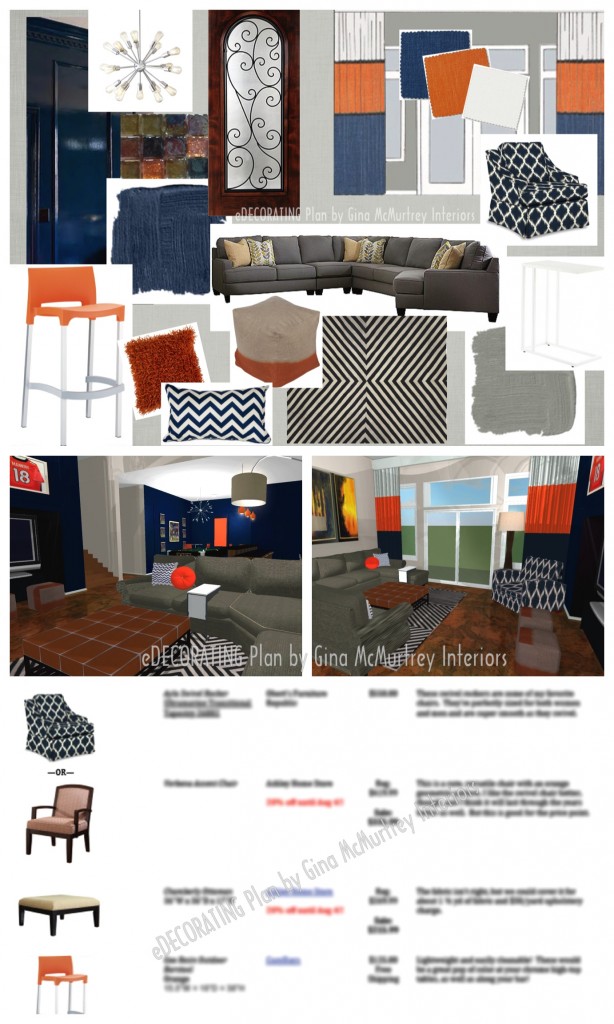 What you get with your eDECORATING Plan:
1) INSPIRATION BOARD — featuring all the exciting elements of your new room design together so you can see how color, contrast, patterns and textures work together for a dynamic space.
2) 3-D COLOR ELEVATIONS — using the actual measurements of your room , you can see a helpful visualization of how the products selected for your space will look once finished, complete with lighting effects and space dimension.
3) DETAILED SHOPPING LIST WITH HELPFUL TIPS — with live web links for easy shopping.  Plus, if there's a sale or free shipping, we'll let you know!  We'll guide you on how to dress your room with the products selected.  This plan can also be supplemented with custom products, such as made-to-order draperies, trade-only fabrics, and referrals for subcontractors such as upholsterers and electricians.
eDECORATING Plans start at only $350*.  By using an eDECORATING Plan, you can save you hundreds or thousands of dollars in purchases of furniture or accessories that don't quite work in your space and have to be replaced.
eDECORATING is also a great option for vacation or lake homes, incorporating your personal style in a new home in a different city or state, or as a unique gift since everything can be done online…no in-home consultation is required!
* Price for a room that is 80 s.f. or less
•
Call  (417-343-6058) or e-mail us if you have questions on how

eDECORATING

 can be the right choice for your new space.
See what our clients have to say about their eDECORATING experience

here

!