Cheap Yard Sale Ottoman Gets Chic New Look
Even in the midst of the crazy football and soccer season, this mom of two teenagers still needs to find time to do decorating projects.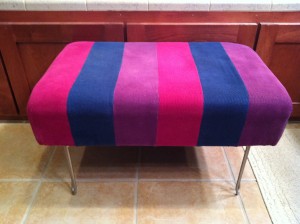 I found this $3 ottoman at a yard sale early in the spring and it's been sitting in our master bath in all it's purple-striped glory for months…taunting me and my busy schedule.  I liked the size, the height, and the collapsible metal legs.  It had potential.
About a month ago I went ahead and purchased the fabric and trim.  And finally, tonight…while listening to post-season baseball…I was able to finally get that hideous thing covered.  The fabric is a heavy woven cotton with tan flocking.  The teal flowers and trim matches our master bedroom walls perfectly.  I kinda love it!