Pouf! A natural way to add fun accent seating.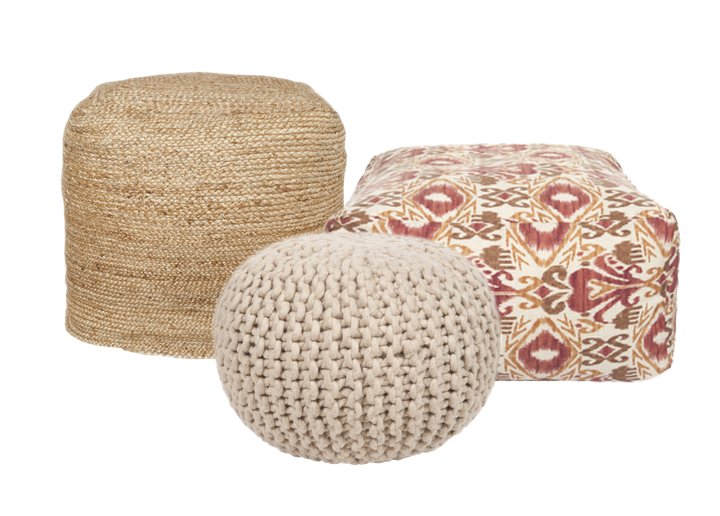 One big, huge, important aspect of the rooms I design is flexibility, both in function and in the products that are placed in the room…especially in public spaces such as living rooms, kitchens, media rooms, etc.  A trend that has been going strong for at least a couple of years is the "pouf" — little upholstered cushions that can serve as a pull-up seat, foot stool, or table if the material is right.
I have noticed that I have put these little soft, versatile goodies in nearly all of my most recent spaces, and I was so excited to see the new line of poufs that Surya has to offer this year!  In particular, I'm L.O.V.I.N.G. the natural fibers and different shapes.  No longer will you just find a faux-leather cube or microfiber drum.  The thick cable-knitted wool round pouf had me at "Hello!"  Seriously?!  What room would that NOT work in?  And the jute cylinder pouf would look fabulous when paired in with something sleek and contemporary, as well as cottage style.  Put a round tray on top and it could make a great small-space end table that doubles as extra seating when guests arrive.  And how about that Ikat?  That print is just everywhere now and the squat, square pouf adds whimsy and a casualness to a neutral room while invoking shades of spice.
Poufs love company so pair poufs under a console behind a sofa.  Add two to the front of a fireplace.  Create a cozy reading area for children in fun, bright colors or just use one as a footstool in a bedroom near a trim chair.  Anyway you do it, the pouf is where it's at!
•
For pricing information on the featured poufs, please

contact

us!