Spring 2013 Color Forecast: A "Balancing Act" of fresh colors
It's time again for the Pantone Color Institue® to release their forecast of the hot colors for the upcoming seasons.  And although these hues are geared and referred to mainly for the apparel industry, home and interior applications are often soon to follow.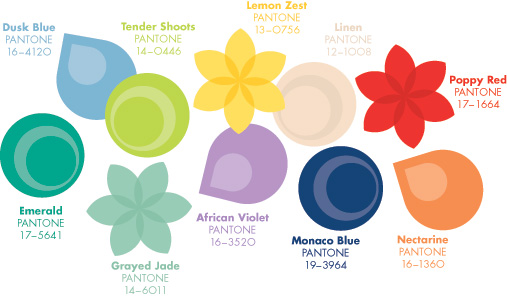 As you have probably seen the resurgence of floral in women's fashion, this palette appears to maintain that course with saturated colors that hint on pastel.  The intent of this color direction is to enable people to re-energize and show self-expression through unique color combinations that are combined with unique neutrals.
"The expression 'balancing act' is something we all relate to as we strive to find harmony in the frantic pace of our everyday lives. The same can be said for fashion as we look for balance between light and bright, classic and new. This season's color palette emphasizes this need for balance, while at the same time allowing for individuality, self-expression and excitement."

— Leatrice Eiseman, executive director of the Pantone Color Institute®
Pantone's® suggestions for color combinations are:
Tender Shoot paired with Grayed Jade & Emerald
African Violet against Poppy Red
Nectarine with a pop of Lemon Zest
Dusk Blue with the neutral Linen and grounded with Monaco Blue
After several seasons of greyed-down neutrals or amped up brights, the almost-juvenile sherbet color combinations may seem a little surprising!  Although this isn't my personal favorite color forecast, I can see a few combinations that I could make work:
Gina's 2013 Color Combinations:
Emerald with Nectarine and pops of Tender Shoot
Africa Violet with Linen and Lemon Zest
Poppy Red with Grayed Jade
Monaco Blue with Tender Shoot
How about you?  What combinations would you create?  Tell me if you see these colors making their way into your home next Spring, or if you'll hang on for the Fall forecast!