Kitchen Design: Regional Trends
As in many aspects of design, the design aesthetic of kitchens varies region-to-region.  A traditional look has long been the staple here in the Midwest, but slowly, homes are developing more of a contemporary feel with clean lines and simple styling.
Kitchen & Bath News, a trade publication for designers and remodelers, outlined the top trends in different regions of the United States in their October issue.  Many different aspects of kitchen design were mentioned for each particular region, as briefly mentioned below, but across the board these trends appeared:
SIMPLE CABINET DESIGN
Shaker-style or clean lines for architectural aspects and doors has replaced highly ornamental trim work or ogee-paneled door faces.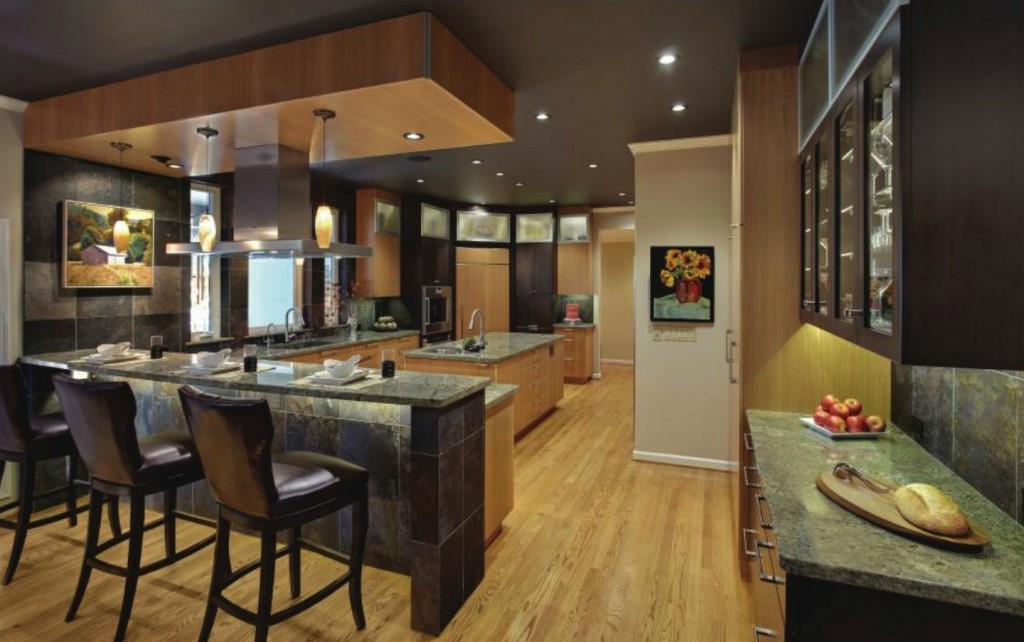 GREY IS THE NEW BLACK 
Whether the cabinets are painted grey or this soft hue is brought in through tile or wall color, grey can be used in both traditional and modern kitchen design.
ENHANCED FUNCTIONALITY
Multi-use spaces, integrating appliances into cabinetry, or employing an open floor plan allows the kitchen to be more than just an area to cook but a family and entertainment hub.
Below are each designer's top three trends that designers from all across the country told 
Kitchen & Bath News
.  For a more detailed explanation of each trend, you can read the article by Kim Berndtson on
Kitchen & Bath News
' online magazine
here
.
REGION

: West

Designer: Nicolette Patton, AKBD  NAR Fine Carpentry Carmichael, CA
Grey, Grey Grey
Simplistic Cabinet Styling
Back-Painted Glass
REGION:
Southwest
Designer: Mary Kathryn Reese, v.p./ co-founder   Kitchen Design Concepts Dallas, TX
More Storage
Enhanced Functionality
Grey/Soft Blue
REGION: 
Southeast
Designer: Daisy Fernandez, design director/senior associate  Fullerton Group Architects Coral Gables, FL
Showplace Kitchens
Contemporary Use of Traditional Materials
Use of light/More Men Participating in the Kitchen
REGION:
Northeast
Designer: Amir Ilin, President   Küche+Cucina Kitchens and Fine Interiors, Paramus/Madison, NJ
White Cabinetry with Darker Woods
Simple Architectural Details
Modern Design Style
REGION: 
Midwest
Designer: Jean-Claude Desjardins     Belle Kitchen Design Build, Minneapolis, MN
Contemporary Design
LED Lighting
Integrated Appliances
If you are planning a kitchen renovation, or are building a new home, and would like help bringing in the current trends, contact us today to schedule a consultation!