Move from dreaming and make it a reality with eDECORATING!
You're ready for a change and you've done your homework.  You've Googled it, Pinned it, YouTubed and TiVo'ed it.  You've subscribed and scrapbooked it.  You're to the "Decorating" section of Barnes & Noble as Norm was to Cheers.  But in the end, all you have are tons of ideas of what you want for your space, but no idea on how to actually get there.  That's why I offer eDECORATING.

eDECORATING is an online design package that takes all your ideas, likes & dislikes, your particular space challenges, and — of course — your budget and puts them in a concise plan, created by an award-winning design professional, for you to follow at your own timeline.  You send me your photos, measurements and answer a design questionnaire and I do the rest.  In about two weeks you have a shopping list, color elevations (for those who have a hard time visualizing) and a floor plan plus helpful hints to make that room the special and unique space that you can love.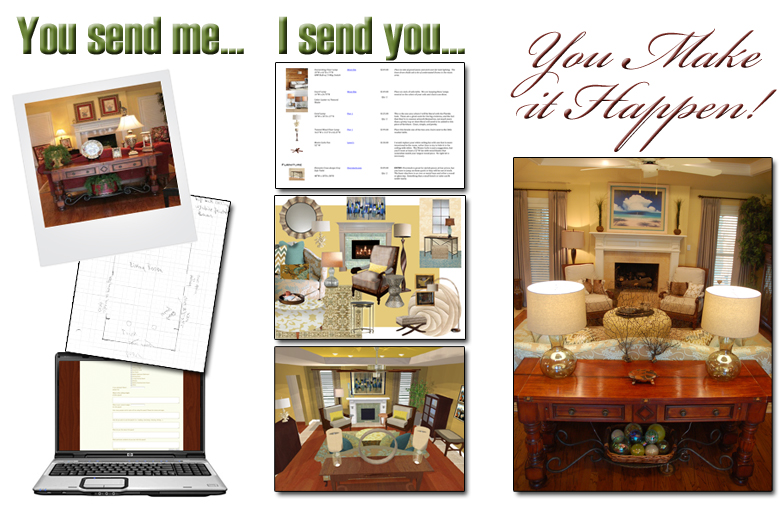 Plus, it's affordable!  The price for an average-sized room eDECORATING Plan is only $450*.  Consider how much you'd spend if you made one large furniture purchase that you hate or doesn't fit well with your overall goals.  Replacing it would be well more than the cost of having an overall game plan.  And, you can be confident that items you purchase at Day 1 will coordinate with the last piece of the puzzle–even if it's a year and half later.
Move out the dreaming stage!  Move into the "LET'S DO IT!" stage!
Let 
e
DECORATING 
be the blueprint for the room you always wanted it to be!
•
Get started on your eDECORATING journey now!
* Price for room 80-200 s.f.
Have questions about eDECORATING, or would like to schedule an in-home consultation?  Contact me today!