DIY FRIDAY: Antique Tin-Top Tool Chest Turned Coffee Table
If you've been following my Facebook page (and if you haven't, I invite you now), you'd know that I've been in the process of renovating my office over the past few months.  As I went back-and-forth over my built-in cabinetry design and window treatment fabric, one thing never changed — I was going to use a 112-year-old tool chest that was hand-made by my great-grandfather for the sitting area coffee table.
This chest was not in the best shape to say the least.  There were years of grime, dust and metal corrosion that comes with something that is used for purely utilitarian purposes.  My mom and husband thought I was crazy…I mean, the room is contemporary!  And this old piece of junk just didn't seem to fit.  Yet, I knew it would be amazing, so after way too long (especially considering how easy it was), I finally cleaned it up and made it the unique and sentimental furniture piece that is frankly perfect.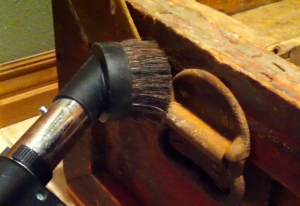 The first thing I did was go over it really well with my vacuum's brush attachment.
Oh, on a side note:  Did you know that spiders do not hibernate in winter?  I didn't either, but was unpleasantly made aware during this process…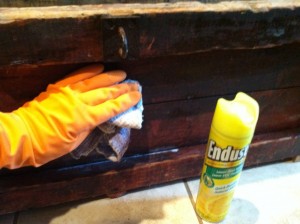 Next, after doing several Google searches and finding that several people sang the praises of Endust (this is not a paid product endorsement), I thoroughly saturated the wood with the furniture polish.  The wood was very dry after many neglected years, but the color perked right up with a good coat.  I had to scrub to get rid of all traces of the afore-mentioned spiders.  <shudder!>  I also sprayed the rusted metal hinges and latch to keep the rust from flaking off.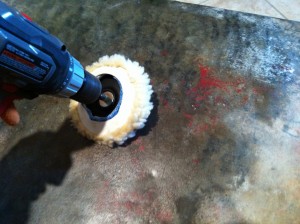 What I actually found when researching the best way to refurbish this chest is that Endust was good for polishing metal.  Who knew?  I sprayed the tin top liberally and then used a drill-powered buffer to slowly work my way across the top.  What emerged from under the dry, powdery metal was more than I could have hoped for!  The metal polished down to an awesome grey-blue with remnants of gold, white and red paint from projects generations ago.  This will match my office so great!   I let that dry and then applied a coat of Turtle Wax to seal it.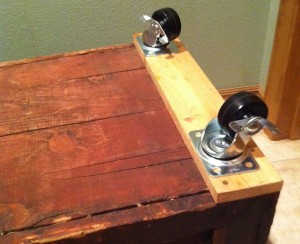 Someone had reinforced the bottom of the chest in recent years (BTW: that is a future project–painting them to match the rest of the chest).  I added large industrial casters to the base.  Two are locking so the coffee tables doesn't go rolling across the room when I kick my feet up with my coffee and trade magazines.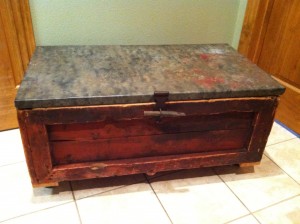 And that just about does it!  I think it looks great!  Keep tuned in to see it in the final photos of the office.
•
Just a little history:  

The Moore-Shafer Shoe Company was based in Brockport, NY from the late 1800's and closed in 1927.  I have no idea how my great-grandfather, who never lived in NY, acquired the trunk.