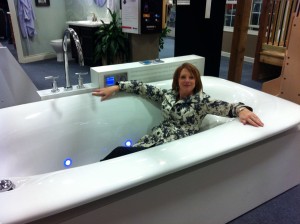 At the HBA Home Show this weekend, I rounded a corner of fancy glass sinks and wicked shower heads to find a vibrating disco bathtub.  Yep.  You heard me.   A vibrating disco tub.  It's the Kohler® Fountainhead® Vibracoustic Bath 8 (offered at Southern Materials of Springfield) and it's pretty stinking cool.
And that's me sitting in it at the show.  I couldn't resist.
All kidding aside… it's not like you're going to have a wave pool in your own bathroom, but you will have an amazing spa experience with this state-of-the-art-tub.  It's nice and deep and offers smooth and soft curves that make it super comfortable (one of those bonuses that you learn by actually sitting in the tub you want to purchase.)
Check out all these amazing features:
Preset, original music, composed in collaboration with a renowned sound therapist, engages and awakens the mind
Sound vibration envelops the body and encourages your breath and heart rate to synchronize with a slower rhythm
Chromatherapy, a repeating sequence of soothing colored lights, is choreographed with music to provide a holistic approach to profound relaxations
Generous, ergonomic bathing well allows you to float freely while feeling safe and secure
Contoured head pocket allows bather to comfortably rest his or her neck
Two Massaging pulse experience provides a more intensive physical vibration massage that can be varied to the desired level
So, if you want to soak away your troubles in a deep hot bath listening to Enya with soothing light transitions, this is the tub for you.  If AC/DC is more your style, well, this is still the tub for you….you just need to turn up your iPod and STILL have disco lights and a cool vibe.
•
Want an amazing home spa?

Contact me

today to schedule an in-home consultation!