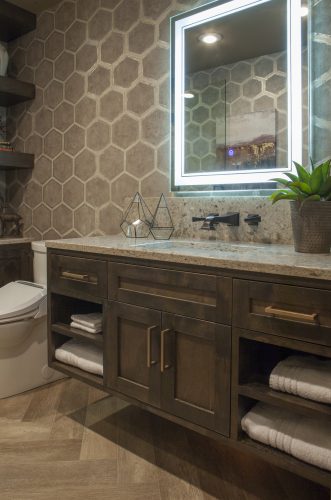 Whether your project is a remodel or new construction, GMI Design Group will work alongside you to create your dream space.
GMI Design Group has developed strong relationships with contractors, trades, and vendors to bring your project to its beautiful fruition.  Maintaining clear communication between the homeowner and contractors, along with a strict commitment to the details allows the process to go smoothly and successfully.
SO, HOW DOES THIS WORK?
STEP 1: FREE Discovery Call
The client/designer relationship is a close one. We want you to feel comfortable with us as we discuss your design needs. We will also talk about which service might be right for you.
STEP 2: Choose the Next Step
If an eDESIGN Plan is right for you, we will send you a link to get started on your DIY journey. Otherwise, an in-home consultation is the next step so we can see your space, start strategizing on options, take some measurements, and begin the design process with a retainer/contract. If you choose a Designer-By-Your-Side Package, we will set up our next meeting dates.
STEP 3: This is Where the Magic Happens
If you're needing full-project design & management, we take the information from the consultation and questionnaire and start putting together a to-scale 3D plan, complete with finishes selected just for you. As we go, we're putting together a product list, securing trades, and assembling a cost estimate. We will get together to discuss the concept, tweak it, rinse and repeat until we have a plan that is the perfect intersection of your design needs and budget.
STEP 4: It's Go Time
Products are being purchased…schedules for trades, product delivery & installation are being made…all in preparation for the big day when the first hammer swings. We will be checking in to ensure the process is coming along as promised, and keep in constant communication with you during it all.
When it's all done, we hire cleaners to make sure your home is spic and span and we add any little special extras like accessories or accents so we can take some fun "after" photos. Then all you need to do is enjoy your new space!
Find out more about which service is right for you with these helpful blog posts:
See what our clients have to say about us!
Gina did an excellent job. From start to finish she made the process extremely easy. After the initial visit, she provided us with a digital preview of what the space would look like which allowed…read more →
Fernanda Edwards is amazing with designing and style. Absolutely what I was looking for and so easy to deal with. She helped with the new design at Nonnas Italian Cafe downtown Springfield. Thanks team!
"After moving to a new location, we needed someone to tackle some design problems in our kitchen. We hired Gina to redesign our kitchen and eating space and to recommend products for not only function…read more →
Gina got us through a monster renovation. We did a full gut, remodel (moved walls) and addition to our kitchen and laundry room. It was an absolute beast of a project that was complicated by…read more →