Honed vs. Polished Granite and Quartz Countertops: What's right for you?
So you've decided to upgrade your kitchen by putting in new countertops.  Whether it's granite or quartz, an increasingly popular option for stone countertops is to have the product honed, or fabricate the surface where it has a matte finish rather than the glossy, polished appearance that has been the norm for decades.
Honed countertops offer a softer, more natural, feel than polished stone.  Some people prefer the matte finish when LED under-cabinet lighting is used so the reflection of the tiny bulbs is not so pronounced.  Honed…sometimes called leathered… countertops also evoke a relaxed and casual vibe while maintaining the strength of granite and quartz, and can be a great alternative to the highly porous options such as marble, limestone or concrete.
Quartz, when honed, can take on the look of slate, concrete or limestone, without the inherent delicate qualities that comes from a softer stone.  CaesarStone® currently offers three colors in a honed finish: Misty Carrera—which looks like natural marble, Pebble—a versatile grey that mimics concrete, and Desert Limestone—which looks like, you guessed it, tumbled limestone.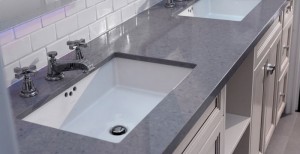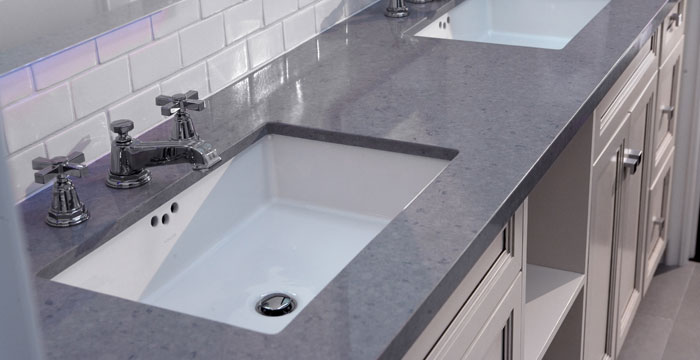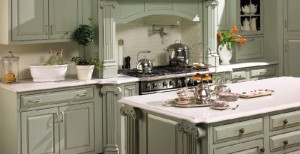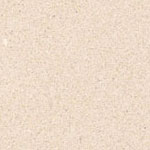 Silestone®  has several finish options for their quartz products, and their Suede texture would be the closest they offer to a honed finish.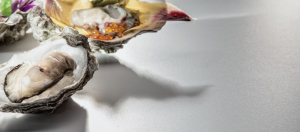 Uba Tuba and Cambrian Black are popular choices for honed granite, since it offers a similar look to soapstone, but at a lower price point.
There are some considerations with choosing a honed finish for your stone countertops.  Honed finishes do require more maintenance than their polished counterparts.  Surfaces will need to be sealed more often.  That means granite may need to be sealed every few months rather than once every 1-2 years.  However, since one of the main pros of quartz is that there is virtually no maintenance or sealing, this will be quite a change.
Also, especially when using dark quartz or granite, some may find that honed surfaces show fingerprints or smudges more than a reflective surface.  Seams and other imperfections may also be more noticeable, but by choosing a qualified fabricator and/or installer, you can minimize that risk.
In the end, with the prevailing casualness that is influencing interior design, I see more buff finish options becoming popular with hard surfaces, especially countertops.
•
Are you planning a kitchen or bath renovation? Curious if honed countertops are right for you?