From Party Pit to Cozy Cottage — Lakeside Tiny House eDECORATING Plan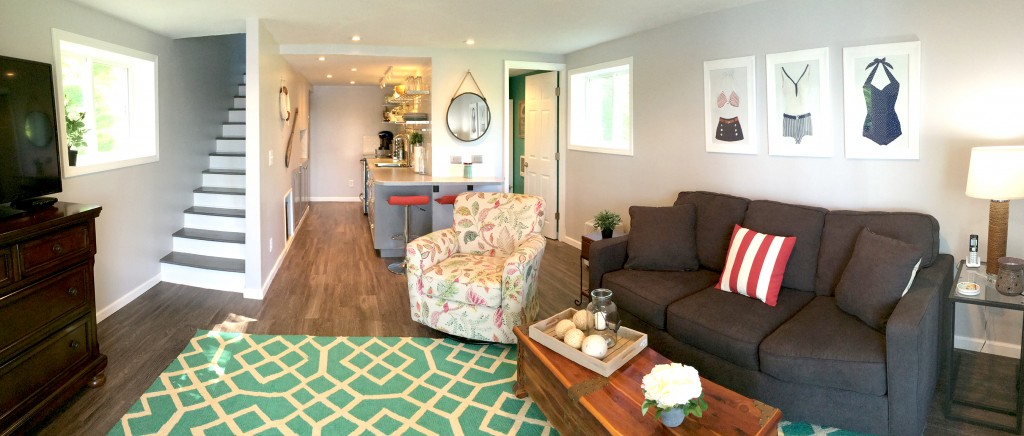 One of the most dramatic projects that I've been able to help design was for my sister and their tiny…and I mean TINY (715 s.f.!)…A-frame house they purchased on a private lake.
She and her husband are very resourceful and talented do-it-yourselfers.  They renovated a small ranch-style home just a year and a half before and transformed the very outdated and boxy floor plan into an open transitional space.  It ended up selling in a matter of days once it went on the market.
But this A-Frame had some special challenges.  Not having square walls was the least of them.
Dubbed the "party pit," people often stopped her and her husband along the renovation journey to comment on parties they attended there over the years.  It was in complete disrepair when they bought it.  Moisture had claimed the drywall.  The floor supports, while a neat architectural element as they were large, dark beams across the basement ceiling, were bowed and needed to be removed.  The only way to access each of the three levels were narrow (and honestly scary) ladder-like stairs.  Plus, there was a nice collection of spray painted wall art.  It was a hollowed-out sight to see.
But they saw potential.
Actually, I think they saw the view of the beautiful lake from the back and it sold them.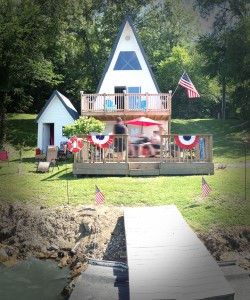 My sister had a good idea of what she wanted in the end—a cozy, contemporary retreat that felt like a luxury vacation rental where friends and family and grandchildren would enjoy coming to stay and play.  However, even though she knew the eventual goal, they needed a little direction on getting there.
An eDECORATING plan was the best solution.
After taking a myriad of pictures and measurements, we were able to develop a floor plan that incorporated flexible and efficient living and playing space that fit well with long summer days playing in the water.  Resilient luxury vinyl that looks like greyed, aged wood was used throughout.  The rugs are indoor/outdoor and can withstand wet feet and dripping swimsuits.  Plus, since this would be their primary residence, incorporating creative storage and multifunctional guest accommodations was a must.  This was accomplished by using a sleeper sofa, wrapping the kitchen countertop around a corner to create a bar an eliminate the need a space-hogging table, and by using storage accent furniture or built-ins wherever possible.
(Actual eDECORATING 3D Renderings)
(click picture to enlarge)
After over a year of working on this project on their own—almost completely without the use of subcontractors—the results are amazing!  And although a few changes to the original floor plan had to be made for one reason or another (as happens in most remodeling projects,) the house is cozy, sleek, efficient and restful.  My sister did an outstanding job with accessories and outfitting the exterior space.  This is an excellent example of a DIY renovation. Great job you two!
(Check out more photos on this project in Houzz!)
•
(click picture to enlarge)