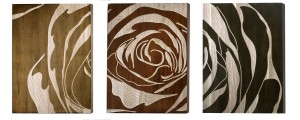 I've never been a frou-frou type of girl.  It wasn't until I had a house full of boys that I even tapped into the power of pink.  But I'm still not one that is all about floral, pastel, romantic patterns and lacy accents. That's why these wood-cut rose art pieces appeal to me.
The almost rustic finish of the three stain tones makes this a more masculine approach to flowers, without being too literal.  These panels come separately, so even placed individually their off-the-edge design is a nice artistic touch.  The natural feel of the wood could also bridge the gap when a woman and a man can't agree on accessorizing a space.
These panels are 16″(w) x 20″(h) x 1.75″(ext) and are in limited supply and are available here in our "Feature Items" Store for $40/each.