Style Meets Sustainability: Cork Flooring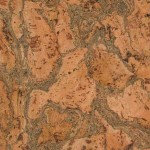 Today more and more, it seems that the floor plays a much larger role as a functional living space. In a modern day home, it isn't unusual to see a family that spends a lot of time 'living' on the floor. Small children play on the floor, teens will sprawl out with friends to do homework or play video games on the floor and homeowners often use the floor as extra seating for casual eating when couches and chairs run out during a 'girls night in' or an impromptu family get-together. The floor is also used to set up intimate, romantic champagne evenings by the fireplace or as a place to exercise, stretch or do yoga.
With the amount of time that today's families are spending on the floor, it is even more important that flooring should be comfortable, durable, hypoallergenic, healthy, stylish and highly functional. Cork flooring, one of the hottest trends in design and décor today, fulfills all of these requirements, and offers much more. In fact, modern cork flooring is the ultimate in ultra chic design and has a softer, quieter, more comfortable surface to walk on, all while being quite possibly the most environmentally friendly flooring choice.
Cork Flooring
Cork is a very comfortable hard surface floor. It is softer to walk on and easier on the feet then ceramic tile, hardwood or laminate. Cork is more than 50 percent air, which makes it lightweight, a natural sound absorber and highly resilient. Consequently, cork often doesn't show dents or grooves the same way wood flooring can. It is also allergy free and easy to maintain – great for a healthy, safe home. Cork is a unique product that is completely renewable, 100 per cent natural and recyclable. Incredible inherent properties, including sound and temperature insulation, cushioning and water resistance provide a dazzling array of uses for cork, ranging from the creation of stoppers for wine and champagne to the fashioning of cushion-soft soles for shoes. Cork is even used to insulate various parts of space shuttles.
"Cork has been around for centuries and has been used as flooring for a very long time because of its natural beauty, durability and renewability," said John Kocemba, member of the APCOR North American Flooring Group and V.P. of Marketing, TORLYS Inc. "New finishing techniques, improved technologies and a modern-day resurgence towards the use of natural and sustainable products, especially in interior design and home décor have revived an interest in cork flooring. No other floor covering can match the combined benefits of cork."
Excerpt from MONTREAL, QUEBEC–(Marketwire – Sept. 23, 2010)
"Style Meets Sustainability; Cork Flooring is the Ultimate in Eco-Chic:   The Portuguese Cork Association Introduces the Natural Beauty of Cork to Canada"
The beautiful cork sample featured is available in plank form at Home Depot, but many more application methods and a variety of colors and patterns are available.  Cork is a fantastic option for below-grade rooms like basements & rec-rooms (with appropriate moisture barriers), floating floors over concrete for warmth and sound protection, kitchens for comfort while standing and preparing meals, and homes where allergies are a problem.

For more information or options on cork flooring, contact Gina McMurtrey Interiors for sample pictures and pricing for your home project!