Concrete Countertops: Trendy, But Not Without Problems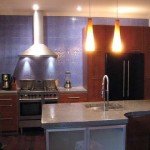 Although concrete has been around for centuries, it is only within the last two decades that this versatile material has become a fixture inside the home as well as under it. Concrete countertops are the 'it' item for home remodeling and new construction. This material is often viewed as the greenest of products and can be used in every area of the home from the kitchen to the bath, the bar and for an outdoor living area.
There are some obvious advantages to using concrete for your countertops:
Design flexibility – you can pick any color, add in textures and even embed items like colored glass or tile pieces
Durable – a long lasting product with proper care
Easy to shape and mold
And while all of these features are wonderful, the reality is that a concrete countertop does have its drawbacks (just like any countertop product).
Cost

– Hiring a contractor to create your concrete countertop design is often very expensive which places the pricing up there with using granite or marbl

DIY issues

– if you plan on making your own, the installation and finishing can be a nightmare

Shrinkage leads to cracks

– once the concrete is dry it will shrink and over time cracks and gaps will also appear

Color changes

– the older the countertop gets, the concrete color will change and usually not in a uniform or allover manner

Weight

– concrete is very heavy and the cabinets supporting the countertop should have foam added where the two materials meet

Installation issues

– seams may not match-up due to uneven heights, the grout may shrink down once it dries, and wavy or uneven walls will create gaps

Porous

– concrete left unsealed will easily stain due to its porous nature and it not suitable as a cutting surface either. It is not naturally heat resistant either and can easily burn
Maintaining Concrete Countertops
All of the above mentioned problems can be remedied, some more easily than others, but the biggest issue with concrete countertops is they can be extremely high maintenance.
There are several types of materials that can be used to create the concrete and this creates a broad range of finished products thus affecting its physical properties and characteristics.
There are about 30 or so different types of sealant on the market to help protect the concrete from spills, heat and other everyday usages. The problem is that there is not one end-all-be-all sealant that covers the variety of situations encountered during the life-time of the product. So you have to choose the sealant wisely taking into consideration where the countertop will be placed and what will be resting on it.
You will have to wax your concrete countertop every month or so to maintain the sealant and about every three months you will have to reseal the concrete again. You should not use harsh chemicals when cleaning and do not use it for a cutting board. Most sealants will not resist the cutting or if it does, you have just dulled your knife.
Concrete countertops are durable and can be quite striking, but you would be wise to study up on the product, its manufacture and the sealants before you commit yourself.