DIY FRIDAY: TV Art Screen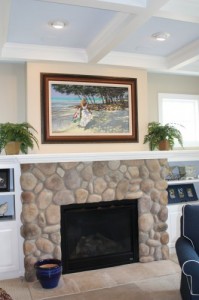 I am not a fan of putting your TV over the fireplace.  There.  I said it.  There are lots of reasons — wrong angle, displaced focus, etc. etc…   BUT, if that is the only place that your TV can logically go in your room, here is a clever way to have a piece of art hung by day and your Thursday sitcoms at night.
•
First, find a piece of art that will cover your flat screen television.  There are lots of places that carry larger scale artwork at decent prices (Kirklands, Bed Bath & Beyond, Gordman's to name a few).  HINT:  You'll probably want to choose a lightweight piece, such as a canvas print without a frame.  Choosing a heavy piece of art with thick framing, glass, and multiple matting layers can damage your TV and poses the risk of falling off.
Next, screw metal "L" brackets on the back of the artwork.  Make sure they are level with the painting so the art hangs square on the TV.  Then, simply hang the art on your TV.  Voila!  You have an attractive focal point when the television is not in use!
•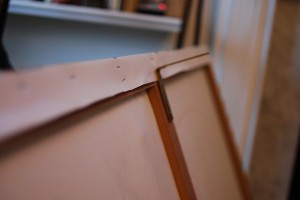 Photos by Johns Journal