DIY FRIDAY: Easy Outdoor Pillows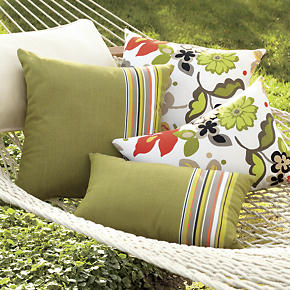 Independence Day has passed, but there's still a lot of outdoor living to be had.  One way to brighten and refresh your patio furniture is to add colorful pillows that are suitable for damp conditions.  This requires the most basic sewing ability (a straight line) which makes it perfect for the beginner.
Martha Stewart's instructions use vinyl tablecloths, but you can find outdoor fabrics, such as Sunbrella® at most fabric stores.
Be spontaneous!  Mix patterns and colors, even on the same pillow, for eclectic and fun picnic cushions.
Martha Stewart Living, Volume 141 August 2005

To make one, cut two squares in desired dimensions from a patterned tablecloth, adding 1/2 inch to each side. Right sides facing, stitch pieces together with a 1/2-inch seam allowance. Leave one side open for batting or pillow insert. Turn right side out, then stuff (if using batting pull it into small pieces). Stitch opening closed.
If you're feeling a little more adventurous, and want to change your cushions for seasons, holidays, or varying whims, you might try making an envelope pillow cover.  Here is a video tutorial from The Crafty Gemini: