Dated-to-Contemporary Kitchen Window Solution
Older homes are a puzzle sometimes.  Weird angles, finish choices, and funky sizes can create challenges in terms of space usage and light maximization.
A house I'm currently working on was no exception.  I'm sure it was the bomb in the 50's.  Not so much in the 2010's.  The kitchen was dark and dated and the windows had been "fixed" to be more energy efficient, but unfortunately looked like it.
Our solution for the window niche was ripplefold, or ceiling mounted, draperies with an inset of sheer material.  The ceiling mounted track is similar to hospital drapery — it's a fine track with hooks that glide across smoothly creating soft, regular folds.  The soffit wasn't able to be removed, so it served to conceal the track.  Yellow satin stripes in the sheer fabric added a little color, but most of all it exploded the light up and down, creating the effect that the window is actually a lot larger than it is.  Honestly, the window is just slightly larger than the sheer section.
A window that was a problem is now a focal point.  Even though the room isn't completed, the homeowner is thrilled.  And that's all I needed to hear.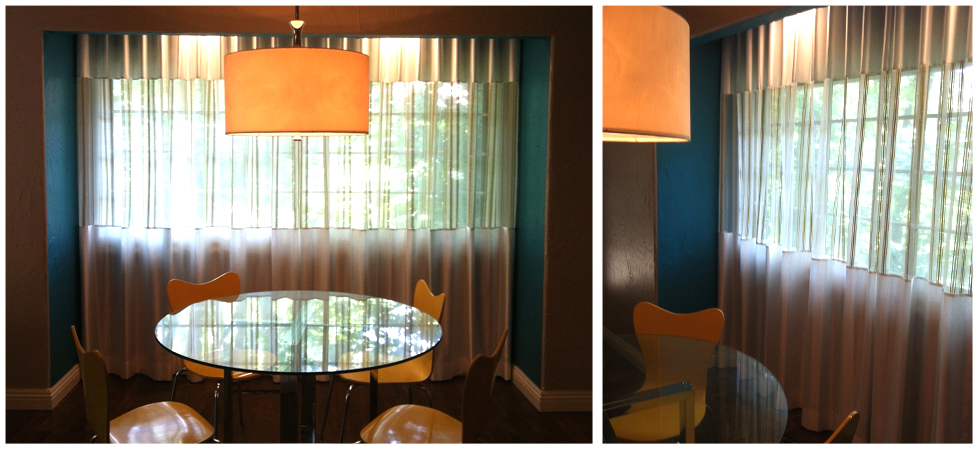 •
Need a window solution?  

Contact

Gina McMurtrey Interiors LLC today to schedule an in-home consultation.