July is National Log Home Open House Month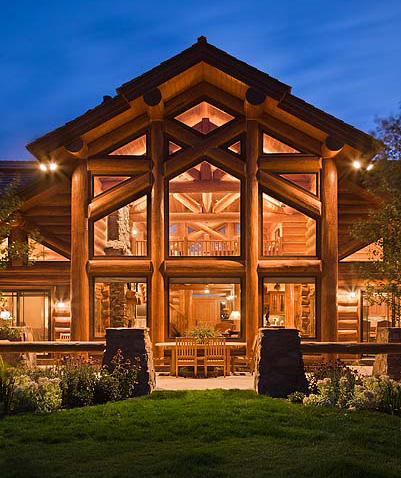 I love log homes.  They bring out images of beautiful mountain ranges, cozy fireplaces, and snow covered landscapes.  It's been about 100° for three weeks now.  I need mental images of snow.
The National Association of Home Builders (NAHB) Log Home Council is hosting a log home tour to help people understand and further appreciate the beauty, efficiency and "green" properties of log home living.
"The modern manufacturing process utilizes every portion of the log, for example, and pre-cut log home packages go up quickly and leave less waste on the job site compared to conventional construction. Log homes are also energy efficient—the massiveness of the logs plays a vital role in conserving energy. According to numerous scientific studies, logs absorb heat energy during the day and radiate it at night to even out the temperature, which can make the occupants feel more comfortable while using less energy over the life of the home," says the NAHB.
The NAHB article also states that people love the feeling of being on vacation or finding a sanctuary upon returning home to a log home.  I can attest to this!  Although we do not have a full-log home, we have a 1/2 log cedar sided home.  This affords us the look of a log home — with the rich, comforting wood tones in juxtaposition with stone and natural landscaping —  but with dry-walled interiors for more flexibility in style and colors.
Although many log homes take on a rustic decor, it is definitely possible to create a more transitional or even contemporary space in a full-log home with some planning and creativity.  Rugs with moose and bear are not mandatory.