Commissioning An Artist for a One-of-a-Kind Work
When we were putting together our office remodel, we knew that we wanted an oversized piece of art over the sectional and we really wanted it to be from a favorite artist that we've seen on local art walks. However, it looked to be only a dream when we started pricing those large canvases. Funny how you can overlook such a thing when you're simply an art observer.
Luckily, we have a great relationship with the store manager where these works are displayed and he suggested that we talk to the artist and have a custom piece commissioned at a price that we could work with. Why had I not even thought of that? A few years ago, I had talked with another artist about commissioning work for a client, but that had faded back into the recesses of my memory.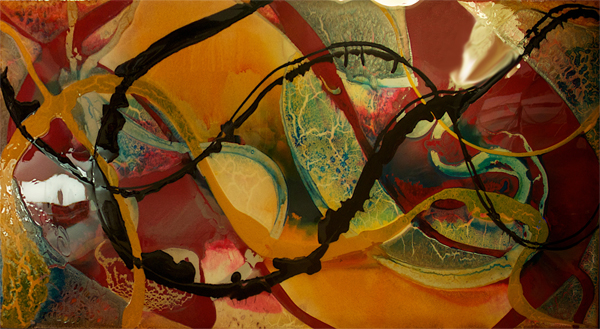 The experience was great and the finished product is perfect. Giving examples from my own experience with the fantastic abstract artist, Gavyn Sky, and additional perspectives from an amazing portrait artist and friend, Nancy Rose, you can see how the process works and how this can also be an option for all who desire a custom art piece and have either specific parameters (such as size or budget) or style preferences.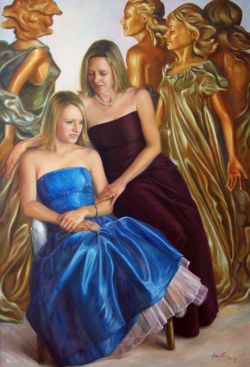 The first stage of this process is meeting the artist. Chances are that you have either seen their work and liked it, or were referred to them. In our case, we met with Gavyn at the gallery and walked through, pointing out colors we liked, how we liked the movement in one versus another, and sizing desires. We showed him pictures of our space and the colors we have in the room already and what our (OK, really "my") vision was for the art. During this time, I would imagine that he was not only listening to what I was saying, but reading deeper into our style, attitudes, "fun factor"…whatever he calls it… to determine a mood to resource from.
For portraits, Nancy meets with a client and assesses what their preformed ideas are about their portrait, including size, where it will hang, the formality/informality of the piece, and who will be included. By meeting with a person at their home, she identifies colors that express their personality.
Budget is often a factor, and both artists are able to work within their clients needs without sacrificing the overall goal. Of course large, life-sized portraits or over-scale abstracts command more "wow" factor, but through their use of medium and scale, they are able to keep the cost within limits.
Abstract artists may choose to use nature as inspiration or let their thoughts flow through stroke and color, influencing the shape and tone of the artwork.  For Gavyn, understanding the client and the space helps with harnessing his creativity's direction.  Nancy states that although working from a photo is good for subjects who have time constraints or for pets or small children, working with live models evokes emotion and energy that can only come from a live, breathing being. "With life, all the color information is right there and true, and there is the experience–the interaction between artist and sitter, that is enriching. It is life," says Nancy.
How do they capture the essence of their commissioner? Gavyn says, " There is always that mystery with my work in particular.  My years of waiting tables paid off in the sense that I was able to get a feel of who I was speaking with and even give them what they wanted before they had to ask for it. " For Nancy, "Maybe it is magic. It is like magic in the way that some things cannot be explained. The way people live, move, talk, what they surround themselves with, all becomes a feeling I walk away with. When I sit to paint, I take this feeling and cloak myself with it. The personality comes through with expression, the gesture in the pose, with colors, with the direction of the eyes. The cloak helps me find those."
It definitely is a mystery and maybe it is magic, because when you see the finished piece and it is everything and more than you had in mind, it's unfathomable that another person could capture all that excitement, energy, life, and emotion on canvas. The depth of color and level of motion all interact directly with the heart, and that makes it more than just art. It's an extension of you, as it should be.
•
Looking for a way to give your room that "WOW!" factor?

Contact me to schedule a consultation and we'll see if commissioning a piece of art just for you is the answer!