DIY FRIDAY: Inexpensive Giant Picture
Have you wanted to buy a large canvas image, but the expense turned you away?  Well, here is an alternative and for about $18 so how can you resist?  Mandy from Sugar Bee Crafts came up with this to dress up her daughter's bedroom. How creative!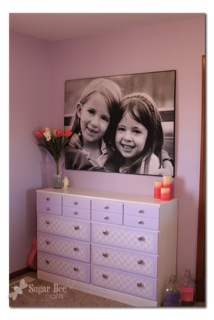 •
Materials Needed

Flash drive for Photo

Foam Board  (Home Depot/ or Lowes- approx. $11 but you can make 2 out of it!)

Scissors

Spray glue

Utility knife

Craft paint  (whatever color you would like on the sides)

Duct Tape

Wire  (or whatever you want to use to hang your Giant photo)
First, select the image you would like to use and put it onto a Flash drive.  Next take it to an Office Store (Office Max/ Office Depot) and ask them for the "Engineer Print" and hand over your Flash Drive.  The downside is that you can only get the image printed in Black and White.  It is about $8 for a 4ft x 3 ft Image.  They will inform you that it will not be Photo quality, but the image doesn't turn out pixilated.
Once you have the print in hand place it on the foam board and cut the board to size.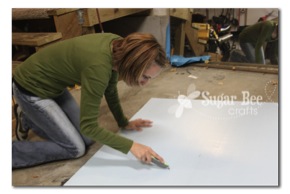 Next, use the craft paint in whatever color you selected to paint the outside and edges of the Foam Piece.
Wait for the paint to dry and grab a buddy for this next step.
Spray Glue the foam piece.  Be generous but don't soak it.  Have your buddy hold 2 corners and you hold the other, and then slowly lower the image onto the foam piece working out any bubbles and pressing evenly into place.
TIPS:  Don't SPRAYPAINT Styrofoam!  It will eat it!  Use craft paint and peel back any clear film so that the paint will work properly.

Don't use MOD PODGE for flimsy paper! It will wrinkle the paper because it is too wet.  The more you try to work out the wrinkles the worse they get.
Hanging:  You can Duct tape wire to the back for hanging or be creative and find a different way.  It isn't pretty but no one will see it.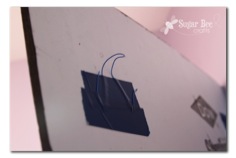 AND there you have it.  For about $18 you can create a FABULOUS wall hanging that makes a statement!
•
(Craft concept & photos: www.sugarbeecrafts.com.   She has some really fun stuff on there!  Check it out!)