Buying a new sofa? How do you know if the high-end option is worth it?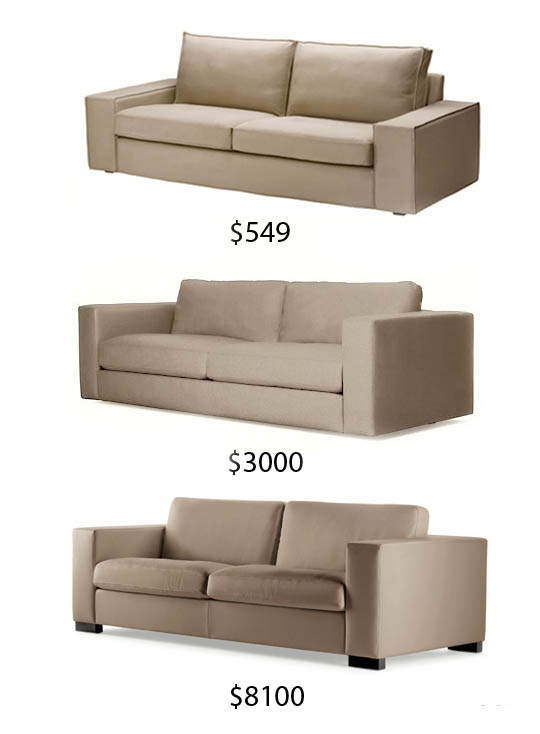 I recently helped my parents buy a new sectional.  Sound easy?
Not really.
There are so many factors that go into manufacturing furniture that it's hard to know really what you're getting for the price tag.  Frame construction, padding materials, foam or down cushions—or a combination of both….  It can be confusing.  Throw in any amount of frugality and the choice gets even more difficult.  It is probably easier to buy a car.
The New York Times featured an EXCELLENT article on the differences in low- and high-end couches, including construction and how to make an informed purchase.
Notable comments:
• "They say only rich people can afford to buy cheap stuff."
• "Unlike fashion, where you pay for style and name but not necessarily construction, with a sofa…you are paying for quality."
• A purchase (is) conditional on your life stage.
 Read the full article at The New York Times.
Doing a proper "test" on a sofa is very important, as my parents discovered. Having a side-by-side seating test between the cheap, starter sofas and finer brands showed pretty stark differences, especially in the cushions and the anticipated life span.
Give yourself some time, both in the overall search and in the time to do the sit-test. Purchasing two $700 sofas four years apart because they fall apart is still more expensive than a nicer sofa that will last for many, many years.
I have many fine furniture options available for you: Baker, Hickory White, Fairfield, Bernhardt, Hekman, Leathercraft, Dwell Studio for Precedent, Harden and many others that offer a wide range of styles and endless fabric/finish options.

Contact me if you would like help chosing the right sofa for your needs.