Tossing Love Around with Valentine's Day Themed Pillows
Pillows = cuddles.
Send a message to your loved one by strategically placing these fun and inspirational decorative pillows around your house this year for Valentine's Day.
They're so cute, you may want to keep the warm fuzzy feeling around all year.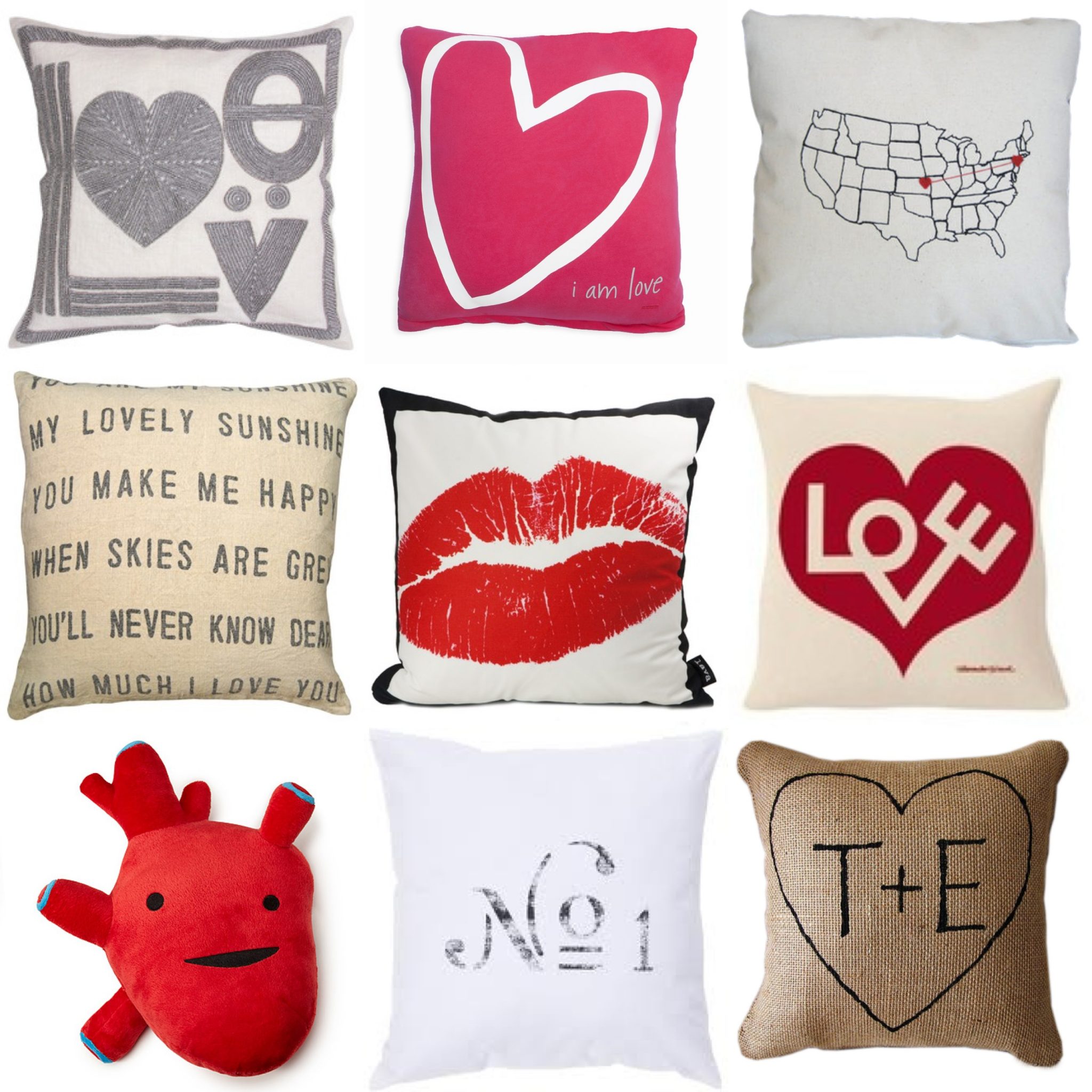 (from top left)
1. Simple, yet sparkly.  Jonathan Adler Love Linen Beaded Pillow      16″x16″     $198     sold by Zinc Door
•
2. Before you love others, you must first love yourself.  I am Love pillow     24″x24″      $168 by Peace Love World
•
3. Long distance relationship? Create your own Heart Strings map pillow with your locations.     $42    Felix Street Studio on Etsy
•
4. Perfect for child, spouse or a dear friend.  Pillow featuring lyrics to the sentimental song, You Are My Sunshine       24″x24″     $120 from Layla Grace
•
5. SMOOCH!   Kiss Me feather-filled pillow by Lava    18″x18″    $29.99 at AllModern
•
6. A modern twist on a classic Valentine's Day heart.  Vitra Suita Love pillow      15.75″x15.75″     $195 at AllModern
•
7. For the Literalist.  Plush Organ: Heart pillow     10″x8″x4″    $18 from Uncommon Goods
•
8. Let her know she's your #1 girl!  No. 1 feather or poly-filled pillow     18″x18″ or 22″x22″   from $39    Available from Gina McMurtrey Interiors
•
9. Romantic & Simple—just like carving your initials in a tree.  Burlap Heart Initial Pillow     12″x12″     $30 by Fanny Elizabeth Design on Etsy