Big Adventures – Small Spaces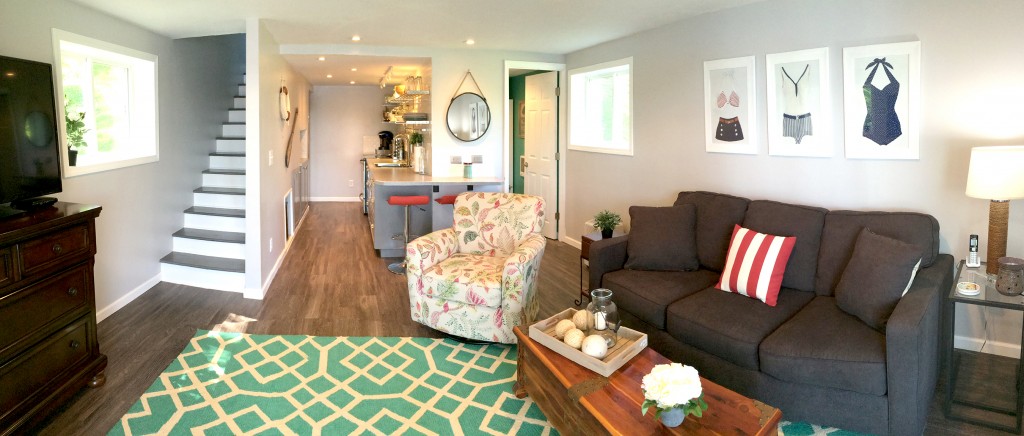 This year is going to be full of adventures for my family, and one of the biggest is a trip to New York with my son, where he'll be attending college in the fall. The plan is to scope out his college campus, find out more about where he'll be living, and prepare for the big move in the fall.
It's a huge change, and it has me thinking about lots of different things (like, "Where did my little boy go?"). It's also got me thinking about design, what people call "minimalism," and about the place that "stuff" plays in all our lives. My son won't be able to pick up 18 years worth of belongings and cram it into his tiny dorm room. He wouldn't want to, and I wouldn't let him anyway. But some of that stuff will make the trip, and he'll be making a lot of choices about what goes and what stays.
Because he'll be living 1,000 miles away, he can't plan for frequent trips back home to trade out his wardrobe. He needs to treat his design choices as a long-term solution that will fit his needs year-round. In a way, his choices will be similar to the choices we all make when we're planning our living spaces, especially when space is limited. Whether we're in a dorm room, an apartment, or a small house, there are things we can to make the most of the room we have available.
Your Storage
For most people, the #1 thing to maximize a small space is creative storage. That includes things like multi-function furniture, like storage cubes that can also serve as a chair.
Under-bed storage is a big space-saver, too. There are a lot of creative options for that. (Here are a few from The Idea Room blog.)
Don't forget about your walls and doors, either. I find that hanging items are a great way to save space, especially if I can achieve it with less invasive items like command strips. A shoe rack that hangs on the inside of a closet door is just one example.
Polished Habitat is a great resource for these kinds of ideas, from 14 Ideas for Adding Kitchen Storage with a Shoe Cabinet to 12 Ways to Organize with Baskets.
More storage ideas:
(The Paper & Stitch blog has some cool ideas for an organized workspace and for a minimal kitchen, too. And you may find some good ideas for creative storage from this post at the Design Sponge blog: A Blank Canvas for Color, with Stacks of Secret Storage.)
Your Stuff
Of course, you can save a lot of space by the way you store your stuff. But one thing you might not think about — you can save space on the stuff itself! I'm not talking about going through your belongings and tossing it in the trash. (Although I think a lot of us, including me, could benefit from that occasionally.)
I'm talking about buying things that are naturally space-efficient. Think about the way your dishes stack, or your containers fit into a cabinet. There are so many great solutions there. IKEA gets a lot of attention, but they're far from the only option.
Apartment Therapy had a great list of The Best IKEA products for small spaces.
The Living in a Shoebox blog recently showed how to Get some extra mileage out of your sleeping space with these 12 storage beds.
Your Space
It's true that, short of remodeling, you can't actually add square feet to your living space. The walls are the walls, and unless you want to knock one out, you're stuck with them. But you can make your space look bigger. That's what we call visual space.
If you want to increase the visual space of your apartment, no matter its actual size, a neutral or monochromatic color scheme is probably your best option. That does not mean your space has to be boring. You can still let your creativity come out — but you can do it in the accessories.
A really fun, colorful area rug is a great idea for a centerpiece. In fact, when you're thinking about decorating a room, I recommend starting with something like the rug, then painting the walls to work with it. It's a lot easier to match paint to a rug than it is to find a rug that matches your creative paint colors.
The photo above is from a small lakeside cottage that I designed. See the gorgeous armchair in front? That's definitely not a piece you can just "throw in" at the end of a project. We loved the chair, so we built the rest of the room around it, and you can see how it anchors the space.
Fun pillows are another good option for adding a pop of color to a room. In a bedroom, the bedding is a great place to show some creativity. (See how color brings this white space to life? – via Decor8)
I love these! A recent find on Instagram:
One tip: when you're adding that colorful burst, make sure to keep the room balanced. If you have a bright blue bedspread in one corner of your bedroom, find a piece of artwork to hand on the wall in the opposite corner with a little bit of that color. It will keep the room from "tilting" in one direction.
(You can find more of my thoughts on color here and here.)
An overall neutral color scheme, highlighted with a pop of bright color, will go a long way toward making your space seem bigger than it is. Combine that with creative storage and space-efficient stuff, and you'll be living large in no time–no matter the number of square feet in your space.
My family's trip to New York is coming up soon, and I'll be sharing more thoughts (and examples) as we get ready for the big college move. You can follow me on Twitter and Instagram to see more of that.
In the meantime, I'd love to hear feedback from you. What challenges do you face in dealing with small spaces? And what tips do you have for helping out? Email me or leave a comment!