BACK-TO-SCHOOL: Window treatments that don't leave a mark

Not many residents halls or apartment complexes are accommodating when it comes to putting holes in their walls, leaving you stuck with tacky vertical shades, cheap mini-blinds, or ancient black out panels.  However, you do have some options, thanks to the advancement of temporary hanging solutions, such as 3M's Command Strips.
There are different ways you can go with this, but in any case, you need to make sure you use the 5lb-capacity hooks and follow the instructions closely, or you will either have your draperies falling off the wall every 3 days, or you will do more damage to the wall than putting in a nail or screw.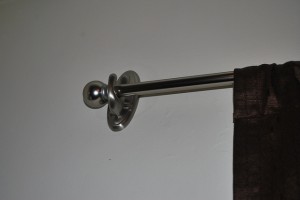 One option is to use the hooks as the pole brackes, as seen here.  This would work best for lightweight or sheer panels that you float over existing shades.
•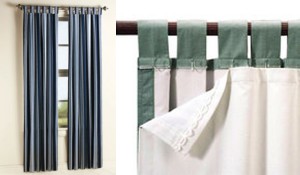 Another option is to use a Command hook to anchor each tab of tab-top drapes.  This will allow you to use heavier fabric, or bring in black-out lining if you are removing the existing treatments (temporarily, of course!)  These panels are from Wal-Mart, and you can see how easy it is to add their blackout lining if desired.
•
If your only option is to keep the existing panels in place, try adding temporary embellishments (trim, fabric banding, etc.) with the use of the double-sided tape that is used for body-to-clothing applications (think J. Lo at the Grammys). Test first in an inconspicuous area first to make sure it will cleanly remove once your lease is up.
Get your limited-time coupons for Command Strips here!