BACK-TO-SCHOOL: Apothecary jars in the bathroom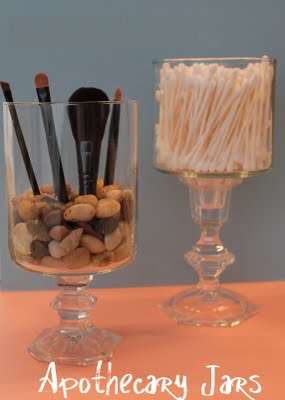 Apothecary jars are great in just about every room of the house as a centerpiece, accent, or for kitchen storage.  But when used in a bathroom you get visual interest through the light play on the glass, the use of various heights, and the artistic display of everyday objects, such as these make-up brushes and cotton swabs.  Plus, the small bases allow more room for things like curling irons and hair dryers on small vanities.
The examples shown are DIY projects and you can get the instructions here.  But you can find other ready-made options at discount and craft stores.  Use colored glass beads instead of rocks for some fun color, roll up washcloths and spiral them out the top for a weekend guest, or keep one empty for a fancy goblet-style tumbler.