2021 Design Trends: Bringing Color Back Into The Kitchen
Although the Kitchen & Bath Industry Show (KBIS) was all virtual this year, this conference on the newest and best offerings in kitchen and bath design still offered some great insight into what design trends we can expect to see for 2021.
Along with a return to natural elements and improved cleanliness capabilities, another often-repeated prediction is a return to color in the kitchen.
While many vendors are offering new options for breaking up the neutral trend we've had for several years, a few stand out for their exciting offerings of colorful elements.
Kohler® and Elkay® have both offered a variety of colors in their porcelain sinks for years. Kohler®, one of the oldest kitchen and bath suppliers in the industry, has offered colorful sinks since their inception in 1873. Currently, you'll see such as Lavender Grey, Black Plum, and Sea Salt, and a dozen others. However, the quartz composite sinks have remained mostly neutral.
Elkay®, a leading manufacturer of both residential and commercial sinks, faucets and accessories, has released some new, bold colors in their quartz sinks. Bright red, navy blue and a gorgeous soft teal are now part of their high impact, low maintenance sink line. They're available in your typical 50/50 and 60/40 split sinks, but also in extra deep single-bowl, bar sinks and a more modern apron-front farmhouse sink!
Combining these colors with the new releases from Cambria® Quartz, the leader in the industry for the broadest and most innovative design palette of natural quartz countertops, was a no-brainer. Cambria® has been our number one choice for quartz countertops for this reason. Their newest collection plus the variety of finish options (high gloss or matte), thicknesses (6mm to 6cm) and edge profiles means they're the perfect choice for the low-maintenance, high-wow-factor kitchen.
We have paired some of our favorites of Elkay® and Cambria® together for some fail-proof kitchen palettes.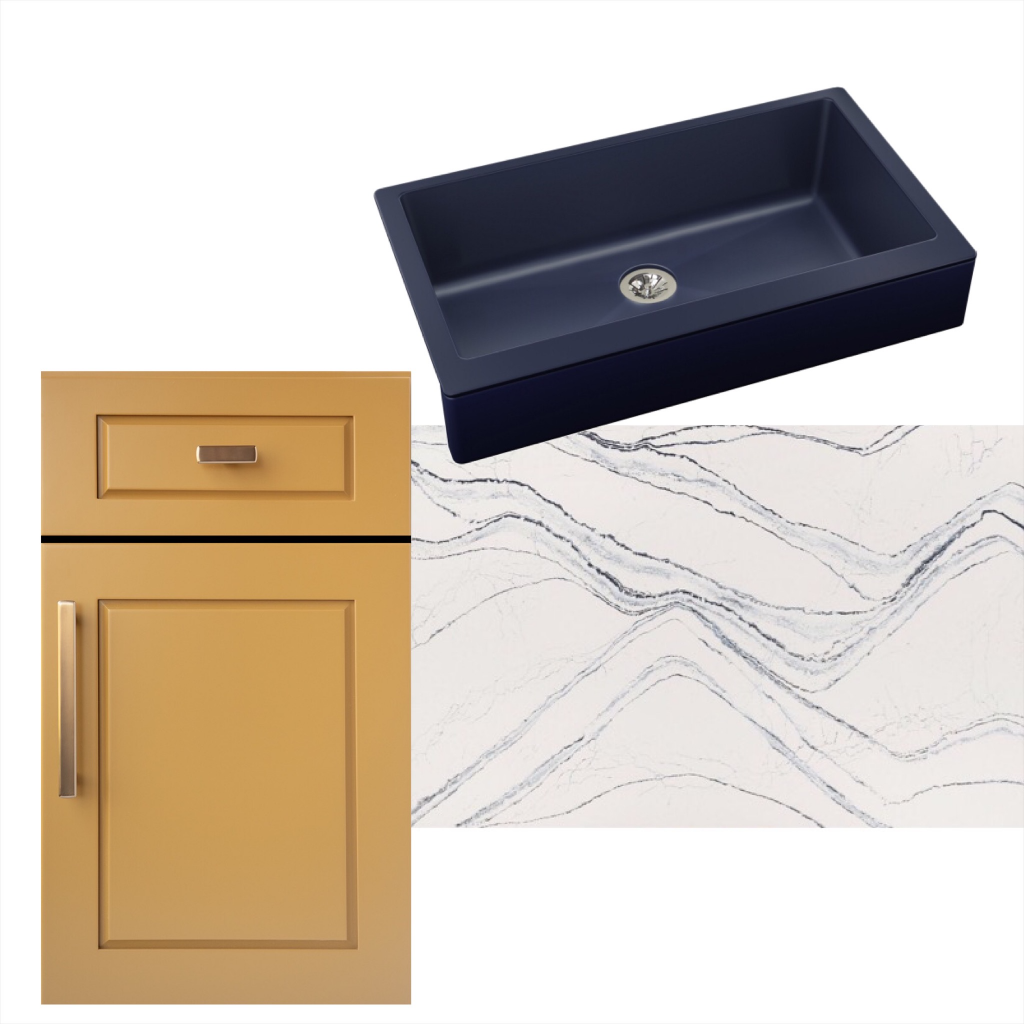 In this combo, the blue sink acts like the neutral while the yellow cabinets take the center stage. The blue veining in the quartz ties in perfectly, creating a harmonious, but far from boring, kitchen ensemble.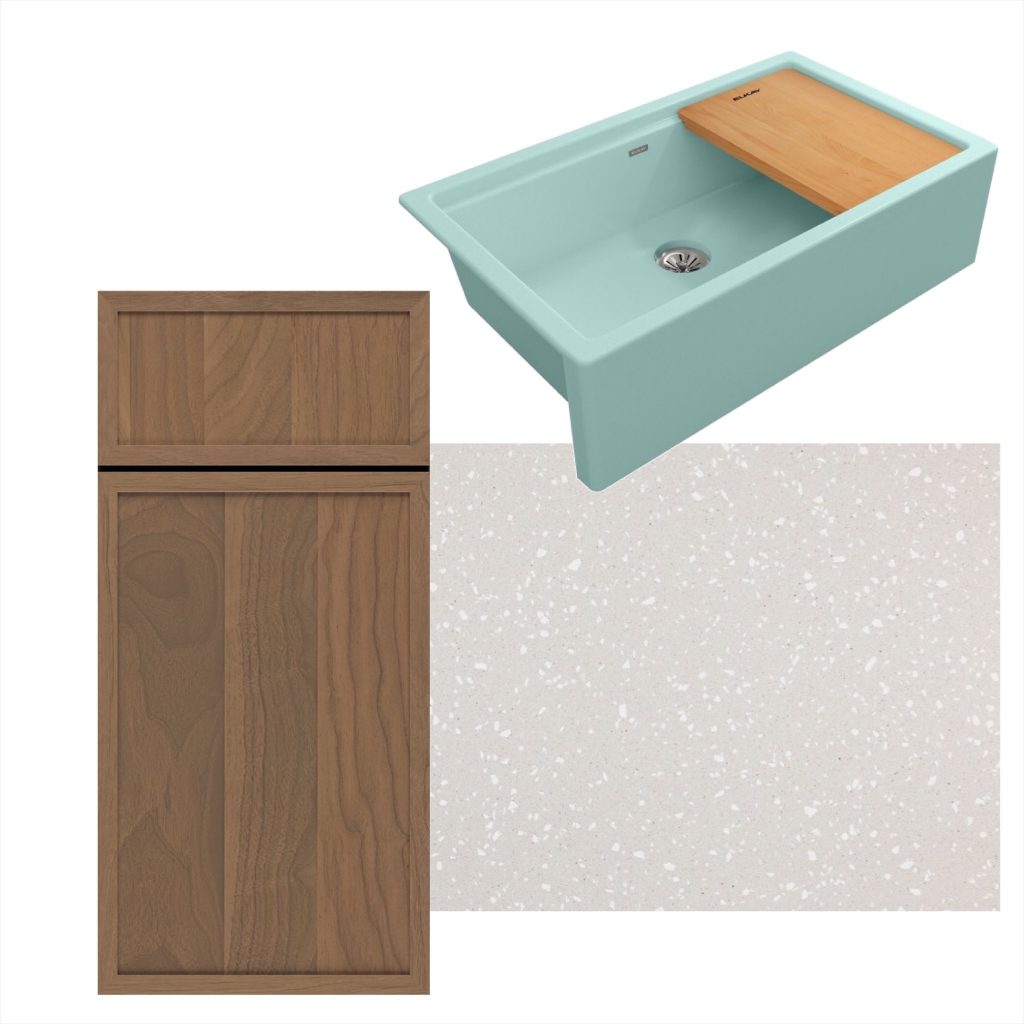 This palette invokes the serenity of the sea. Cambria® Sanibel Shoreline Quartz is an eco-friendly recycled quartz option and is a nod to sandy, shell-dotted shorelines. Natural walnut cabinets and teal farmhouse sink round out this earthy, back-to-nature palette.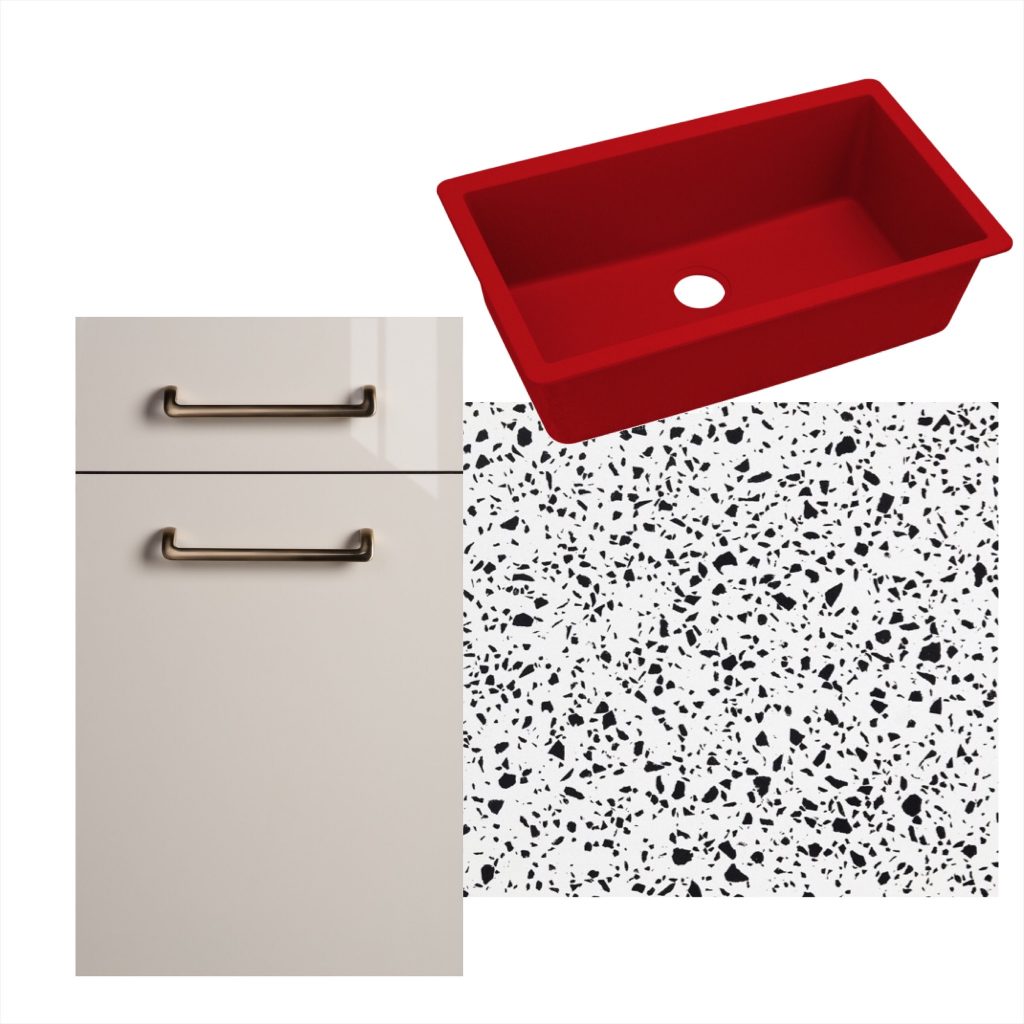 And for the a more dramatic, no-fear contemporary look, Elkay®'s new Maraschino red is a great pop of color in a black & white kitchen. Cambria® 's Vail Village has a terrazzo-style black & white & grey speckled pattern. Paired with an ultra-high gloss cabinet and gold pulls, this palette is luxury all the way!
Beyond sinks and countertops, another option for a pop of color, without being super permanent (although the price point might make it more so), is colorful appliances.
BlueStar® has been in the front of the pack as far as bold colors in a variety of design styles. Their ability to pick and choose different colors and metal finishes at each area of their products, as well as specific burner or door configuration, is the epitome of high end customization.
One last super-exciting option available for pops of color in the kitchen comes at a more approachable price point. Samsung is releasing their Bespoke 4-Door Flex Refrigerator System in the summer of 2021.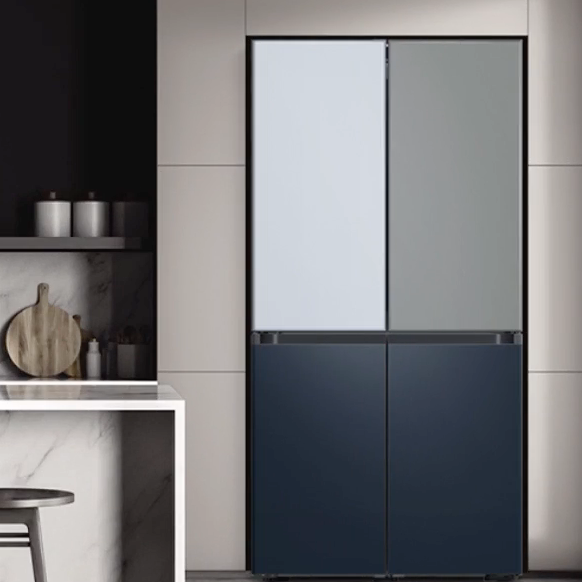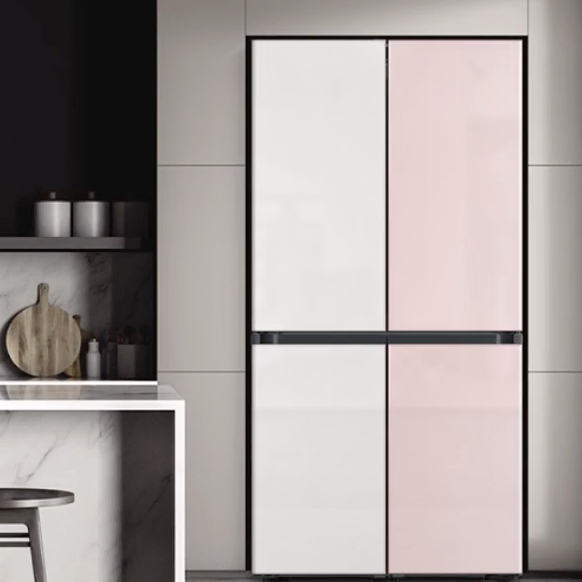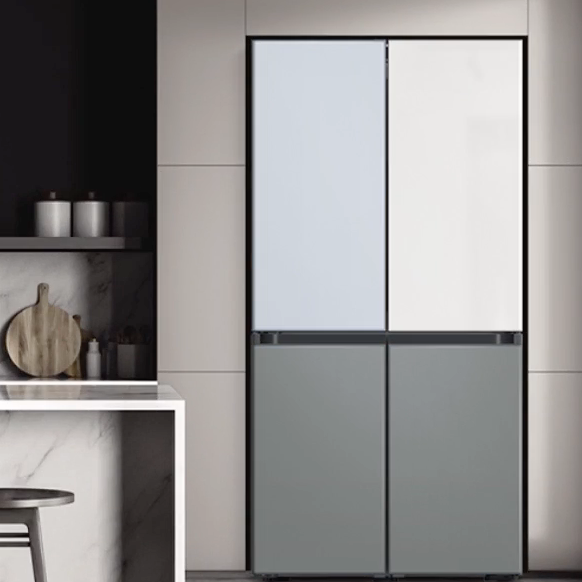 This flat-front, 4-door refrigerator has options to mix-and-match color in a Mondrian-style manner. And they're not just a pretty package! The features in these refrigerators are pretty sweet too!
All-in-all, 2021 promises to be a fun, colorful change to kitchen design!
---
Are you looking to bring some color into your kitchen? Schedule a FREE 15-minute call with us and we'll set you on the right path.