2021 Design Trends: Timeless Design
We just finished off KBIS week. For those who don't know, KBIS is the Kitchen and Bath Industry Show. For me, the most exciting thing about this week is all the new product introductions from different industry companies, and all the trends that are presented. I am like a kid in a toy store, I want to see everything. Not just because it is so much fun, but also because I always want to bring my clients the newest options, products, trends and insights.
Ironically, this year's show is all about moving away from trends to timeless. I am not at all surprised by that. I see this everyday. I see the public wanting timeless designs over trends ands fads.
This year's show hit close to home for me, as I always strived to give my designs as much longevity as possible. Because let's be honest, nobody is remodeling their home every 5 years.
With that being said, timeless does not mean boring, colorless, all white and grey interiors. The best definition to timeless design came from a speaker at this year's KBIS:
"If you lean into what you love, it will always be timeless."

Arianne Bellizaire
The task of creating a space that passes the test of time can be daunting. So I'll give you some help to move you in the right direction.
Here are 4 tips to create your timeless, well-designed, space:
FOCUS ON NATURE
You cannot go wrong when you get your inspiration from nature. 2020 taught us to get closer to nature to increase wellness and well-being. Bring this concept into your home. Use natural colors, both soft and bold, because nature is full of life and shades. Add natural textures like wool, wood and textiles. Utilize potted plants and flowers to bring life and color.
BE SMART WITH YOUR LIGHTING
Use lighting to control the mood in the space. Allow as much natural light to enter your room and select the correct window treatments that suite your light filtering preferences. In conjunction to window treatments, accent lighting is your best ally. Add enough artificial light so in the gloomy days you feel as bright and energized as you want. And take advantage of the new smart light bulbs that allows you to set the temperature, color, and intensity of the light emitted.
ADD COLOR WITH ACCENT PIECES
Remember, color is not your enemy here. The key is to add color where it matters. Stick to neutral colors to the pieces of furniture that will be more permanent, like your couches, entreatment center, bed, dining table, overall wall color. Add color to things that can easily be changed: pillows, rugs, accent walls, accessories, side chairs, art.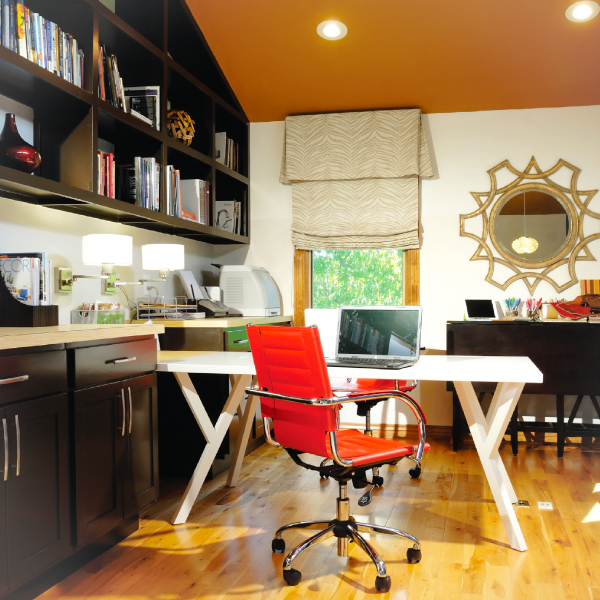 LEAN INTO WHAT YOU LOVE
Take the council from the quote above of the fabulous Arianne Bellizaire… if you love it, it is timeless. If it brings you happiness, you will enjoy it for years to come. Don't be afraid to express your personality through your space. It's your space, make it yours.
And, of course, if you are still lost and overwhelmed in this process, schedule a FREE 15-minute call with us and we'll get you started.