2021 Design Trends: Connectedness & Holistic Well-Being
Possibly the understatement of 2021 is that 2020 changed us. 2020 was a year of much transformation as we navigated through very difficult times. This change was reflected in all areas of people's lives, and it was not different for interior design.
Now, finally, people see how important our interiors are for our well being. It only took people having to isolate in their homes for months for them to begin to understand how important the overall feel and look of your home matters to you in a deep and meaningful way.
The design trends for 2021 are a direct reflection of the way the pandemic has shifted our priorities. Obvious trends for kitchens and bathrooms focus around ease of clean-ability and use of technology for touch-free cleaning (think touchless faucets and voice-activated shower systems). However, more internal drivers are shaping the design trends for late- and post-pandemic interior design.
CONNECTEDNESS
From the lock-downs and inability to visit family and friends in person, connectedness became a major inspiration for our spaces. This is not only a connection person-to-person, this also includes a desire to connect with our environment. More people were spending time outdoors than in years past and found that this brought out a hunger for holistic health, rejuvenating our minds, bodies and spirits. A draw to overall well-being has been a huge focus.
Jamie Drake, a prominent NYC Designer, coined the term "Insperience" as "experiencing life from inside, from within." Because we have been experiencing life from the inside of our spaces, the trending goal has been to minimize the superfluous, maximize our physical space and to be intentional to surround ourselves with things that bring us joy. (Thank you, Marie Kando!)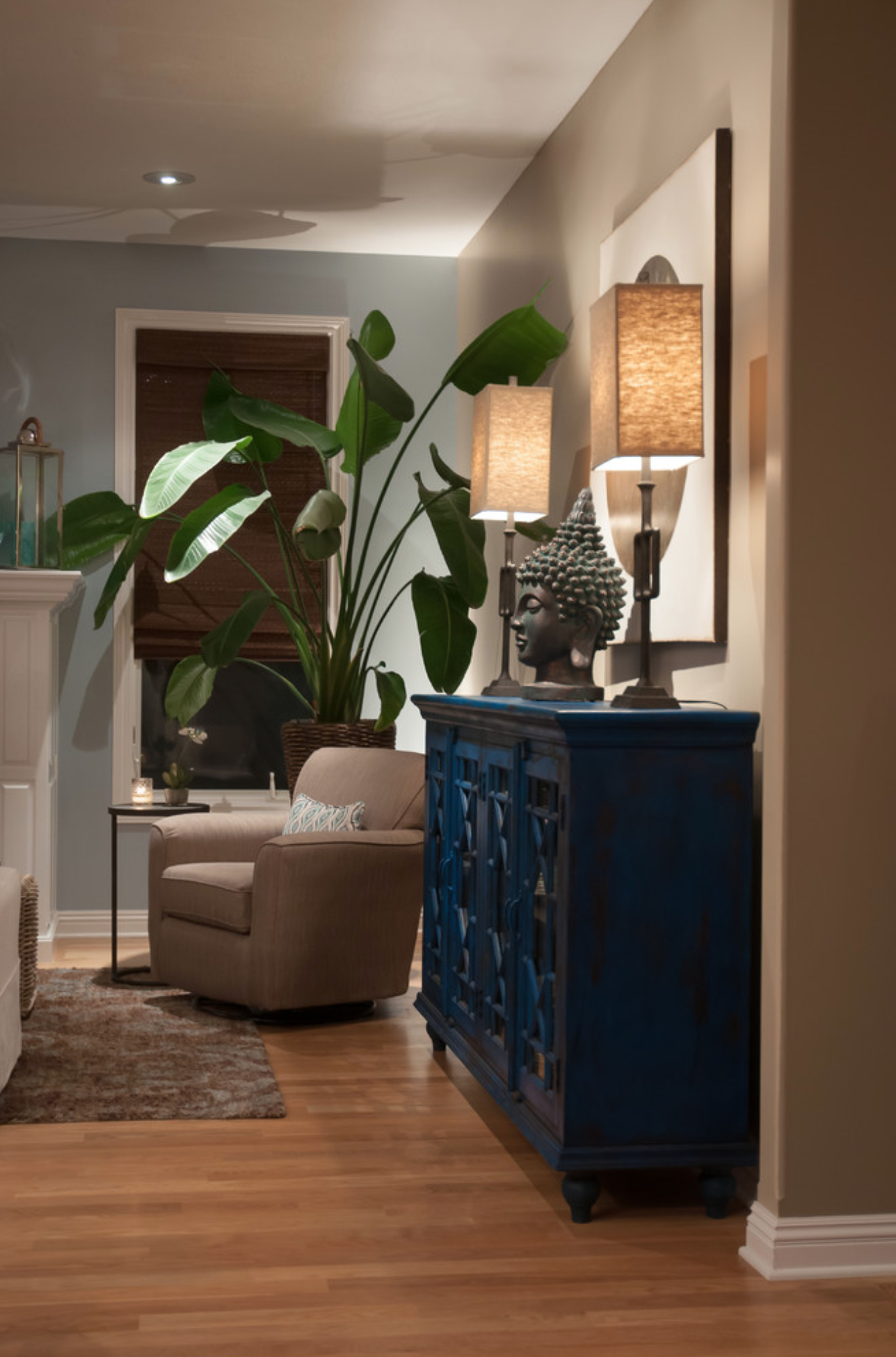 FIGHTING COVID-FATIGUE THROUGH OUR INTERIORS
COVID-Fatigue is a thing. We're tired of the doom and gloom on the news, tired of being distant, tired of being TOGETHER (If you have kids at home, you know exactly what I'm talking about!). We're just all tired of ALL. OF. IT!
ESCAPISM
Some of the ways design is helping combat COVID-Fatigue is through creating a mood of escapism. Color can enhance and transform moods relatively inexpensively. We have already talked about how bringing color back into kitchens and baths is a strong trend for 2021. Neutrals, especially cool greys, are seen as too sterile and gloomy and what we need is some uplifting vibes.
Another way to achieve a mood of escapism is through creative lighting. LED strips that are controlled through Alexa and in a variety of color options is a great option for using lighting to add color and life to a bland room.
A RETURN TO NATURE
Another way we are improving our connectiveness and improving our well-being is connecting with nature, whether literally, as in investing in outdoor spaces, or metaphorically, by incorporating more natural elements in the home's interiors. This is seen through the return of natural wood cabinets or reclaimed wood furniture. Green, a very popular color in all spaces, evokes rejuvenation and rebirth. Can't we all appreciate that sentiment?
STRESS REDUCTION AND LIFE BALANCE
When you're using your small kitchen for an office, school room and eating space, it's hard to feel that your life has any boundaries. Interiors for 2021 are focused on ways to minimize unneeded stuff in our lives and use our spaces more efficiently. Having a purposeful place for work that can be put away at the end of the day, or storage solutions to tuck away school work, have become super important. Transforming a bathroom from something completely utilitarian into a soul-calming retreat has been another way to nurture your mental and emotional well-being.
And while there has been a spike in products that use technology, there is also a desire to disconnect. Using technology wisely to enable people to spend less time cleaning and cooking give them more time to rest and rejuvenate.
Vern Yip, HGTV star and renowned interior designer, advises, "Select materials and finishes so you can focus on the people and situations that are the most special in your life instead of the STUFF in your life"
So all these changes bring on the question: will we ever return to the harried pace that we experienced pre-COVID? These holistic changes may have just changed how we all live in our homes and communities for years to come!