UPDATING VINTAGE METAL CABINETS
"We have metal kitchen cabinets from the '60s and sometimes I wonder how to embrace the retroness without going overboard."
Great question!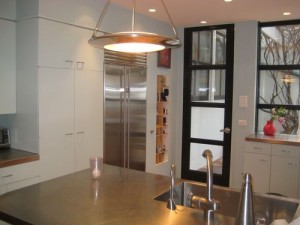 Metal cabinets were very popular in the 1950s and 1960s due to their incredible durability, affordability, and easy maintenance.  They are regaining popularity, especially in modern homes and industrial style lofts.  So what do you do if your older home came with the real deal and you want to update your kitchen?
PAINT:  How to do it without looking like you did…
Anyone can take a can of spray paint and change the appearance of metal cabinets, but making it look clean and crisp is a whole different story.  The paint product is part of it.  DIYers can use RustOleum's Specialty Appliance Epoxy Spray.  Spray 3-4 light coats (a heavy coat can leave drips and bubbles) within a few minutes of each other (wait too long between coats and you miss out on the chemical bond between layers.)  The advantage here is that it's very affordable!  The disadvantage is the quality of the paint job is in the hands of the painter…otherwise known as you!  With store-bought spray paint, the finish is probably not going to be that smooth, shiny surface you would expect to see.
A couple of options to this is to send at least the doors to an auto body paint shop for them to spray coat with highly lacquered auto paint or hire an appliance painting service.  Paint the cabinet frames (and interiors) on your own and still have a professional exterior finish.  A cost saving possibility is to talk with the instructor of Industrial Tech or Auto Body Repair at your local high school or community college.  Let them use your cabinets as training for less (or free).  You may have to wait a little longer, but you'll save some green.
COLOR: Embrace the "retroness" or bring it into the modern age
The color you paint your cabinets needs to depend on two factors:  How long do you plan to live in your house? and How throw-back do you want to be?"  If you don't plan on staying in your vintage home for more than 8-10 years, I would highly suggest painting your cabinets a neutral.  The RustOleum product is only available in these colors as a matter of fact.  If selling is a possibility, consider a more modern approach with a slick white or cool black.  Spend a little extra on really nice countertops (granite or stainless steel) and backsplash (glass tile or painted-back sheet glass).
If you want to bring a little personality into the kitchen through your cabinets, choose a richly saturated color and go all out!  Again, modern kitchens with metal cabinets feature reds, yellows and blues.  But let that be your focal point.  Neutralize the rest of your room to let that color shine.
PULLS: More than a gripper
No matter what your kitchen plans are, changing out your pulls and knobs is a quick and easy way to update.  Be sure to measure carefully the drilling length if replacing pulls.  If you're having your doors painted by an auto body shop, they could fill those holes and you could re-drill for longer pulls.
Fun options instead of one plain pull are:
Stack two of the same knob for a modern kitchen
Pair unique pulls (one glass, one ceramic, one metal, one painted…you get the picture) for a quirky, fun kitchen
Hopefully this gets your creative juices flowing for how to incorporate your vintage kitchen into your decorating plans.  Choices in flooring, lighting, and other accents in the room will also be instrumental in tying in the whole theme.
If you would like some assistance in choosing colors to paint your cabinets, or help to pull a unified look together for your kitchen remodel, contact me and we'll assess your needs and find the best possible solution.