Top 8 Kitchen Trends of 2014
Planning a kitchen remodel?  Professional Remodeler magazine has listed their top 8 trends for kitchens for 2014.
Top 8 Kitchen Trends For 2014 
1. Open kitchen design
Kitchens are merging with the home's living space as a more relaxed and casual lifestyle is preferred.
2. Kitchen lighting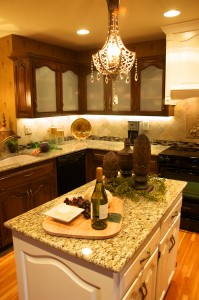 LED lighting leads the way in ambient and task lighting when natural is not sufficient.
3. Countertop material, black color
Mixing countertop materials is becoming more common, yet look for black as the color of choice in 2014.
4. Refaced kitchen cabinets
A cost saving measure, refacing the cabinets by incorporating glass insets or by painting them gray or off white are an affordable and dramatic way to change up your kitchen.
5. Apron/farmhouse sinks
Often associated with traditional kitchens, apron front sinks give clean lines and a simple front that works with even contemporary design.
6. Appliance finishes
Stainless steel still reigns, but integrating the appliances into the cabinetry, or by selecting a softer finish, is becoming popular.
7. Kitchen islands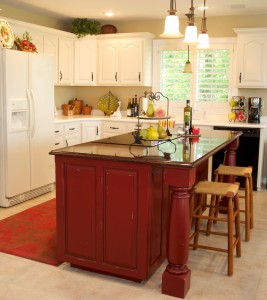 Kitchens are becoming multipurpose areas of work and play.  Islands, particularly those that mimic furniture, offer creative and functional appeal.
8. Floating shelves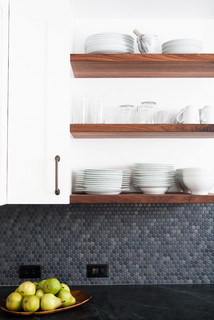 Open shelving allows for more use of color in the kitchen, and gives a clean, casual vibe.
Read more of the Professional Remodeler's article here.
Top Reasons Homeowners Decide to Remodel Kitchens:

1) Preparing a home for sale

2) Creating more space

3) Replacing old appliances/finishes

4) Updating appearance

5) Improving usability of kitchen

as ranked by remodelers, www.ProRemodeler.com

Do you have a kitchen remodel in your future?  
Contact us

today to schedule a consultation!