It's no joke when people say: "the kitchen is the heart of the home!" Guys, my kitchen is in and I feel like my heart is at home!
But before you look at the installed cabinets, let me first refresh your memory of my 3D renderings that I made in the planning phase of the project. As you can see, with 3D renderings you can really see how your project will turn out long before you start the implementation phase.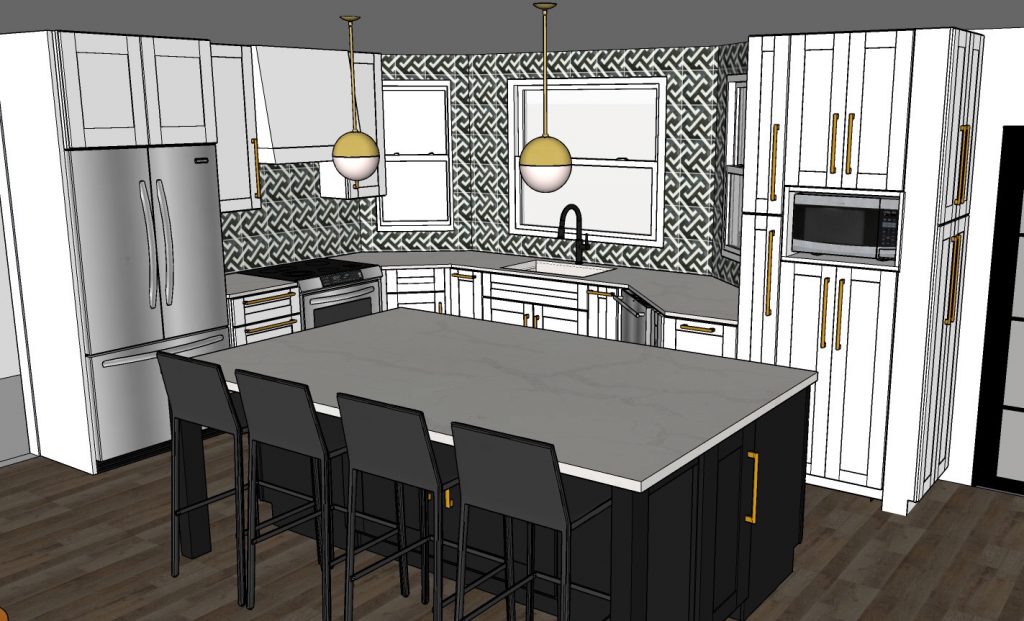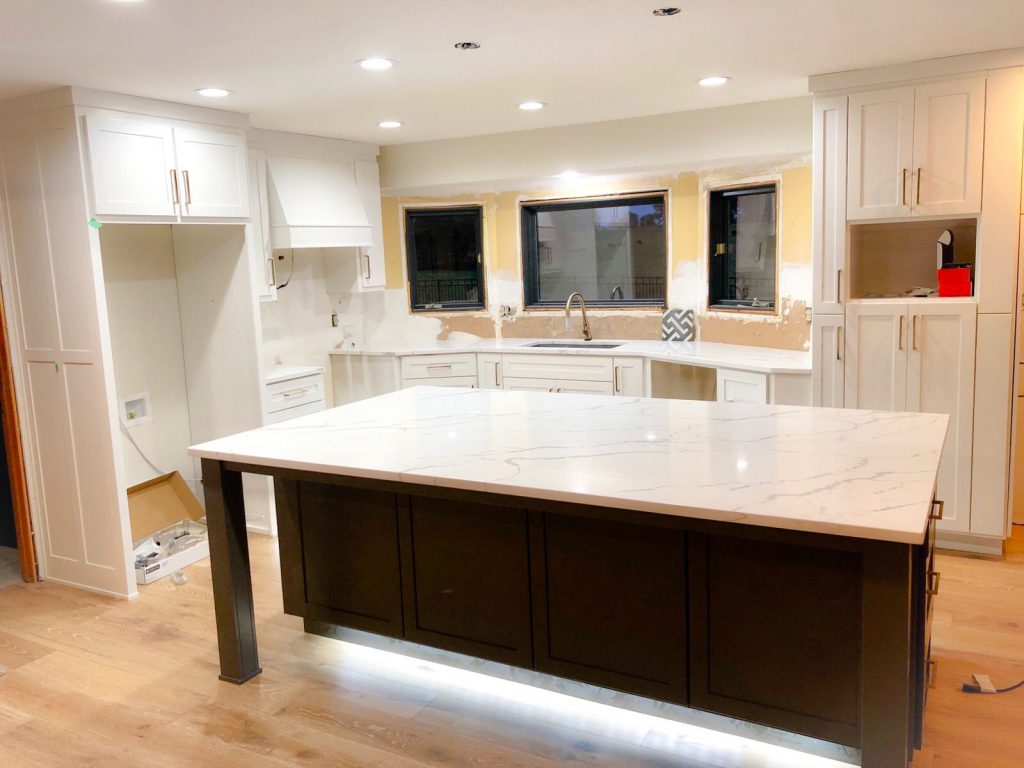 For the design of the cabinetry I wanted something very simple. My goal was to have doors that are not so full of details, and then kill it with a bold backsplash, full of pattern and style. I selected the shaker door style, but to make it seamless, I went with full overlay doors and drawers.
Full overlay cabinets is when the doors and drawers don't have much space in between them so you see less of the cabinet boxes and the doors and drawer fronts are bigger.
I really like the contrast between my island and the perimeter cabinets and I am super pleased at how the island color ties in with my fireplace background color. Let's not forget that I am designing a whole space, it's not just the kitchen, and not just the living room. Everything is connected and it needs to make sense, that's the magic of open-concept living.
I was super excited when the cabinets were installed, but then the countertops came and I jumped from joy! The quartz really set it all off, tied it all together and now all that I dream about it is to be able to cook in this kitchen and have a real meal! Did I mentioned that I have been cooking in my basement laundry room with a hot plate and a microwave for a month now? So yeah, I've been day dreaming about my kitchen being at least functional for a while now.
The icing on the cake is the last piece for function in this kitchen, the appliances. They came the day after my countertops. I scheduled this way to avoid any problems with damaging them during the installation of the countertops.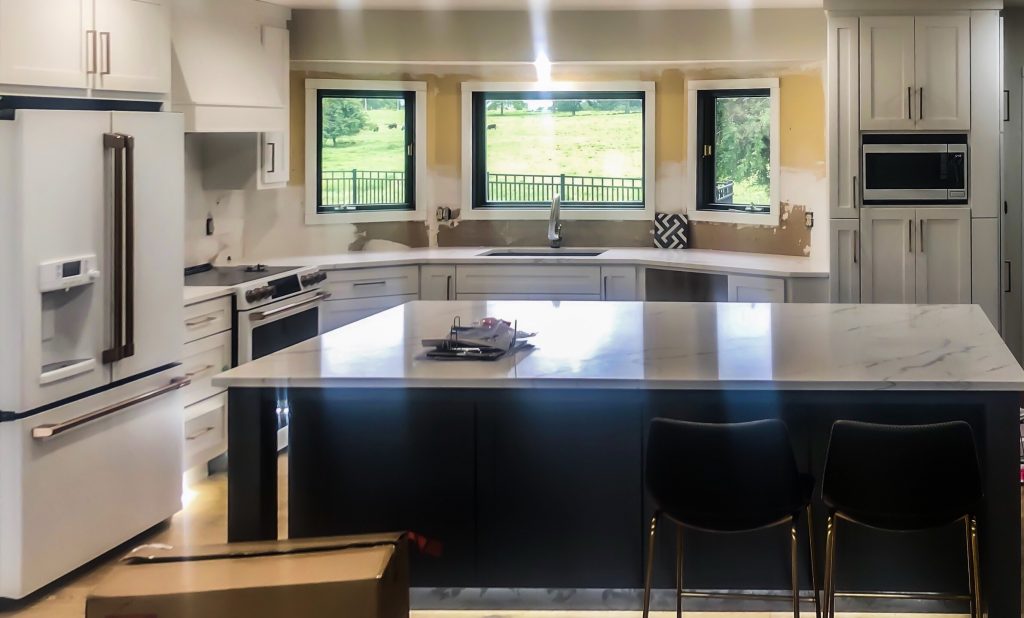 PRO TIP: Remember, the order of when things are delivered and installed is crucial to avoid damage problems.
The way I see it is that appliances, faucets, cabinet pulls and light fixtures are kitchen JEWELRY. And that's how I treat them when making my selections. That's what brought me to chose the Café Appliances from GE. They really look like jewelry and you can customize the color of the handles.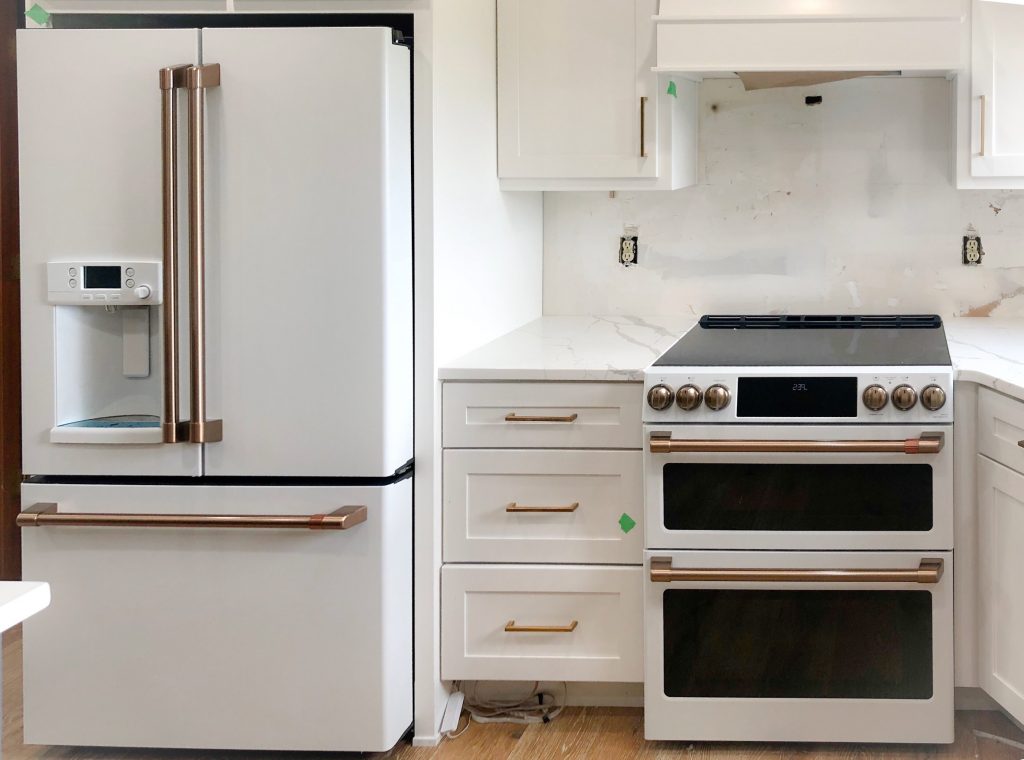 A nice touch that I added was the toe-kick lighting. All around the perimeter of all base cabinets and island we installed Philips hue lights. The lights give another layer of dimension to the whole space. And since we are in the era of technology, those lights are controlled by my smartphone and they can change to any color of the color wheel. How fun is that?! Of course, I prefer the normal white light, but Flora loves when we change it to pink and Max wants it to be green, Jurassic Park green! 
Even though my backsplash is not installed yet I am trilled to have a functioning kitchen again! Remodels are hard, but they are worth it! And the best part of this: I HAVE A KITCHEN!!