The Incredible Benefits of Concrete Countertops
Considering concrete countertops?  There are so many awesome attributes to this versatile product, not to mention they are super chic.
I'm very excited to feature guest blogger Anthony Greer of Countertop Investgator and his findings on the benefits of concrete countertops!  Thanks, Anthony!  Great stuff!
•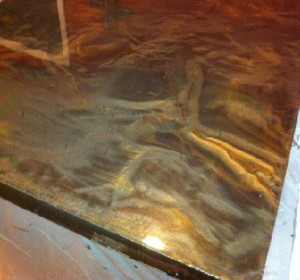 The Incredible Benefits of Concrete Countertops
You're used to driving on it and seeing it used for exterior home applications but why would you ever consider installing a slab of concrete as a countertop? Wouldn't it seem unnatural to have concrete as a main focal point of your kitchen? The answer, amazingly enough, is no. Concrete actually serves as a high-end counter that is commonly installed in many luxury offices and homes.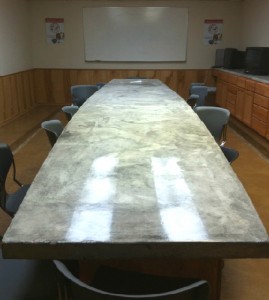 The cost of concrete countertops
These are customized products that are designed by expert artisans and manufactured to exact specifications. If you have had the misconception that these counters are a low-budget way to add to your kitchen, think again. These are high-end counters that are quite often compared to marble, quartz and granite countertops and are often installed in luxury homes.
Here is a general breakdown of what you can expect to pay for a 1.5-inch concrete countertop as compared to one made of other materials:
Concrete – $65 to $135 per square foot
Granite – $100 to 200 Dollars per square foot
Synthetic surface $90 to $220 per square foot
Engineered Quartz – $100 to $200 per square foot
Tile – $10 to $90 per square foot
Laminate – $25 to $50 per square foot
There are a lot of different factors involved in the pricing of any countertop including the materials, building, design, thickness and installation. Back splashes, drain boards, curved and irregular shapes and custom edges can also raise the cost of any counter installation.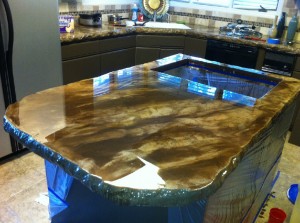 On average, the cost of a countertop made of concrete is going to cost less than a high-end quartz, granite or marble counter but will be equal in aesthetic appeal and durability.
Completely customizable
Natural stones like granite and marble can't be customized like concrete can be. With concrete material you can texturize, mold and sculpt it to your liking. You can even design and produce your own countertop if you're a do-it-yourselfer to reduce the costs significantly.
Can be used anywhere
A concrete top can easily fit into a higher-end home or suit a small condominium. No matter what type of property you own, a counter of concrete can fit right in due to its design flexibility. In fact, if you have a traditional kitchen, you may want to consider concrete as your first choice. It has a warmer feel to it than the other types of natural stones and with its decorative inlays and edge detailing it can often better blend into a kitchen with traditional decor.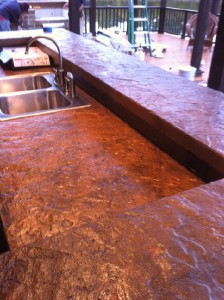 Concrete can be used for both indoor and exterior purposes. If you're looking to put up an outdoor bar, concrete may be used as long as it is protected from freezing and thawing conditions. As well, in most states, concrete countertops can be used in commercial kitchens.
If you've been looking at various quartz, granite and marble designs for countertops and haven't yet made a decision, take some time to explore your concrete options as well. You may just find that you'll fall in love with the warm glow and feel of the concrete and end up saving thousands of dollars in the process.