Showing some skin…animal skin, that is.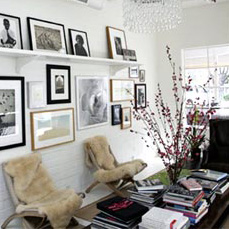 Apparently this look has been around for a while and I'm just now becoming aware of it, but it seems like everywhere I look in magazines or blogs or design inspiration sites there is a thick, furry animal skin draped over furniture…especially modern furniture.  I'm sure it would look a lot more appealing in the winter, and I've been contemplating this use of hides for the past week or so.
At first, I wasn't feeling it.  Again, it could be the fact that we're in a historic heat wave here in the Midwest.  But the more I mentally dwell on it, the more it's growing on me!  Maybe.  I'm back and forth.  The fact that my favorite designer/architect (Frank Lloyd Wright) used this in his iconic masterpiece "Falling Water" — which is celebrating it's 75 Anniversary this week — has me leaning toward the "Yeah, I'm diggin' it!" side.
What's your take?  Love it or hate it?