ACCENT LIGHTING FOR YOUR MASTER BEDROOM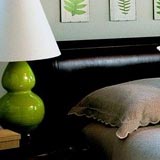 When choosing a bedside lamp for your master bedroom, the first thing you will need to consider is for what purpose are you needing light.  Do you like to read in bed, or are you mainly looking for ambience?
Ambient or mood lighting can be any low-wattage or dimmable lamp, whether direct or indirect.  Some contemporary beds are perfect for putting indirect fluorescent lighting behind the headboard, creating a cool "glow" across the wall.  Short, frosted glass up-lights or whimsical novelty lamps can also be considered ambient lighting.  When using a lamp with a dimmer, though, remember that florescent bulbs do not dim…you will need to use a standard incandescent bulb.
For reading, the rule of thumb is to not have the bottom edge of the lamp shade higher than your shoulder when sitting up in bed.  So, the height of your lamp can vary depending on the height of your side table, bed, and yourself!  Having a lamp that is taller than this will create a glare which is very distracting when reading, and can cause eye fatigue.  You will want a 75-100W bulb for good, clear reading light…but make sure to check your lamp to see its maximum wattage allowance.  By incorporating a dimmer, you can also double-duty these lamps into ambient lighting as well.