How you can make a difference in the lives of those affected by the May 22 tornado in Joplin, MO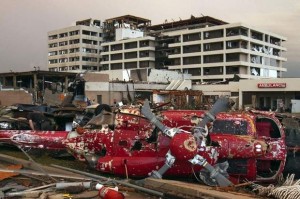 Yesterday around the dinner hour, nearby Joplin, MO was hit by a massive tornado that was 1/2 mile wide and spread over a 6-mile stretch.  Although unconfirmed, this was at least an EF-4 tornado and has damaged 25-30% of the city.  This is the deadliest twister to hit our state ever, and the death toll is expected to rise as search and rescue efforts continue, even in continual severe weather.
The visible damage and survival stories are unbelievable.  This was the busiest section of that town.  St. John's hospital took a direct hit as well as the local Lowe's, Wal-Mart and Home Depot–and if they're anything like your town, many people were out on a Sunday afternoon shopping and gathering their things for home projects.
Events like this are overwhelming.  What can one person do?  What can you do if you live far away and cannot physically assist in the recovery and rebuilding efforts?  What we all can do is team together in donating to these organizations.
Right now, these relief teams are being deployed to Joplin to bring in needed health and food supplies, blood and medical units, and assistance for shelter.
A leader in world assistance for food and water distribution, Springfield-based Convoy of Hope is already on the scene.  Text CONVOY to 50555 to donate $10 to rescue/aid work in Joplin. Check out Convoy of Hope for more details.
A Code Red alert has been issued for Type O Negative blood donors in the aftermath of Joplin tornado.  Over 150 units were shipped to the stricken area Sunday night.  If you are in the Southwest Missouri area, extended hours for donation are available at Springfield and Joplin centers.  Visit the Community Blood Center of the Ozarks website for locations and times.
The American Red Cross also has information regarding shelters, and can take donations online for essential items that these victims will need as the relief and rebuilding effort continues.