HOW TO SAVE MONEY ON A KITCHEN REMODEL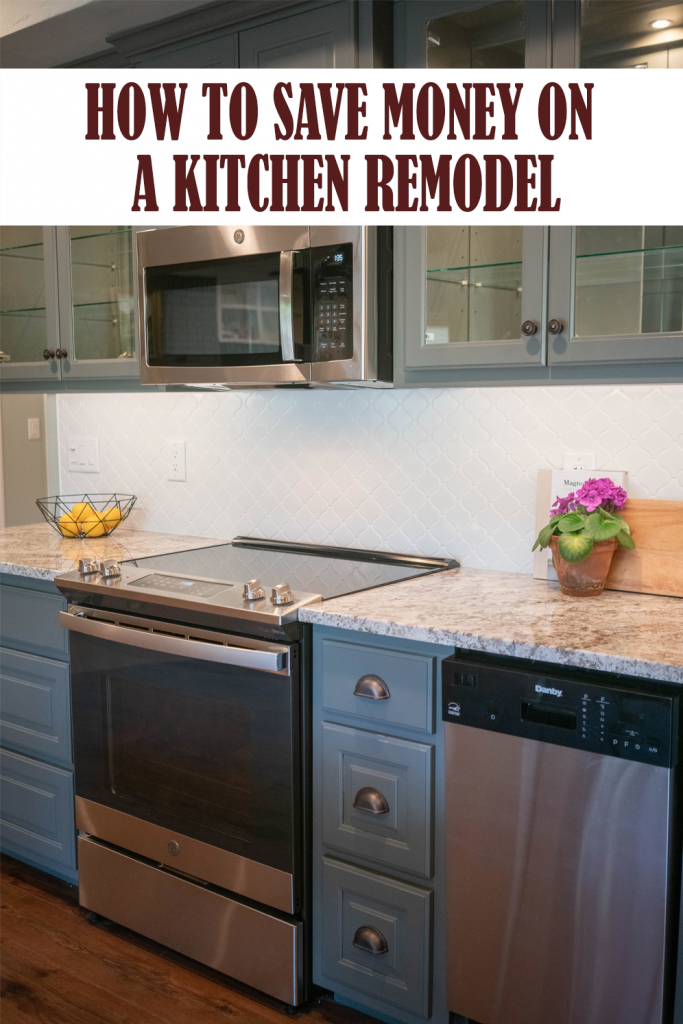 A kitchen remodel is often one of the most expensive interior remodeling projects, especially if it's a full-gut, total re-do situation. Big bucks for big rewards.
While the national average for a full-scale kitchen remodel is around $66,000 (see our previous blog post for more on how much a kitchen remodel could cost), there are definitely ways that you can shave some serious change off your project costs.
In our 10+ years of kitchen remodeling experience, here are some of the ways you can save money on your kitchen remodel.
CABINETRY
Ready-made, off-the-shelf cabinetry from a big box store is one cost-saving solution. However, these are obviously not your top-shelf option in construction, nor do they give you much flexibility on how the kitchen is laid out as they are available in limited sizes and options.
PROS: inexpensive and relatively easy to attain quickly
CONS: limited options on color and style; low quality in construction (plywood with veneer overlay); limited options for kitchen design due to set box sizes; some assembly may be required
Semi-custom cabinetry is a nice step up from ready made. There are more in-line bells-and-whistles (i.e. soft close hinges, pull-outs and gizmos and gadgets), options for all plywood construction, and a larger selection of door & drawer styles and finishes.
There are several different levels of quality within many semi-custom cabinet lines, allowing you to improve the quality and functionality of your cabinets. However, at some point these can be just as or more expensive than custom cabinetry, with fillers and joints where custom wouldn't.
PROS: More options than ready-made and can be relatively inexpensive
CONS: Fillers and joints between cabinet boxes; Less finish options than custom; Can be just as expensive as custom with lots of add-ons
Custom cabinetry is the standard that ready-made and semi-custom want to aspire to. There is no limit to what can be done here…no limitations on finish, wood species, room layout or options.  Often thought out-of-reach when looking at budget-conscious projects, some smaller, less-marketed cabinet shops can offer high-quality wood cabinetry at a decent price point. Door style and the bells -and-whistles make all the difference here on if these will be super expensive.
The choice of door styles can help bring your costs down. We could do a whole blog post on cabinet door styles, but for now we'll keep it simple.  The main types of doors are inset, full-overlay (also called Euro or Full-Access) and standard (Traditional) overlay.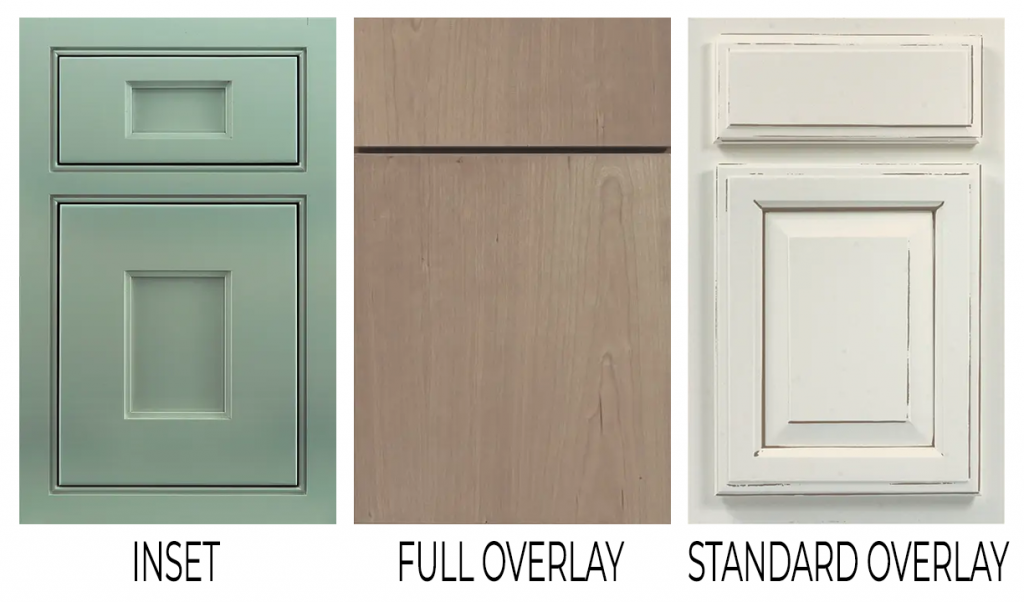 Inset Doors are just that—the doors and drawers are recessed within the face of the cabinet. This gives a super sleek, clean look and is the most expensive style of door option. If you add beading around the doors and drawers, it is gorgeous, but also an upcharge.  
Full-Overlay (or Euro or Full-Access) Doors means that the cabinet box does not have a lip on the face frame, with the doors and drawers hinged from the inside and flush with each other and the exterior perimeters of the cabinet base.  This is a great option to inset doors in terms of modern cabinet styles. This style of door is great for both slab doors or paneled doors and is a perfect mid-range option.
Standard Overlay Doors means that the cabinet box does have a lip on the face frame, and that the drawers and doors are offset from each other, showing the face frame.  This is the least expensive option. 
COUNTERTOPS
Granite and Quartz have been in a preference war over the past few years and quartz is still in the lead. While granite has a wide range of price points (from $35/sf to $150+), quartz tends to hover in the mid-upper range (from $65/sf to $150/sf.) So a less expensive option overall would be a lower or mid-grade granite.
If you want that amazing marble-look quartz (which is at the upper end of the pricing scale), consider putting this show-stopper on an island and use a less expensive granite for the perimeter cabinets.
APPLIANCES
In our previous blog post on "How much does a kitchen remodel cost?", we suggested that you start planning your kitchen remodel about 6 months prior to when you want it finished. This gives you some time to look for seasonal and holiday-related sales at local appliance stores. Memorial Day and Labor Day are both great times to find good deals on appliances, and many stores offer bundle discounts when you buy more than 3 appliances from the same line. Warranties can be dated at the date of installation if you need to store them for a few months while the rest of the project is completed.
PLUMBING FIXTURES
This is going to be a shock, but DON'T SKIMP HERE! Seriously. Quality plumbing fixtures will save you a replacement cost in a few years at least, and water damage repairs at the most. And those name-brand options at big box stores are NOT the same as those sold through a plumbing supply showroom. They have plastic fittings and gaskets that will wear out faster (and can be produced cheaper.) Trust us…stick with the better quality here. You will save money in the end.
Tile, flooring, door hardware — all of these can be found at various locations in person and online in a variety of low-cost options. But by being intentional about the above suggestions, you can significantly reduce the cost of your kitchen remodel project and still have a beautiful, functional and updated space that you can enjoy for years to come.