How Marketing Principles Have Influenced My Interior Design Philosophy: Call-to-Action (Functionality)
Interior Design is my art form.  Fresh out of college in 1993, my original outlet for this art was as a graphic designer/creative director for an advertising firm.  After my children where both in school, my path shifted to Interior Design and I realized I had found my calling.  The 3-Dimensional realm of interior design closely followed the 2-Dimensional rules of effective print advertising (content, balance, scale, white space and call to action).  When people hire me, they want an environment that is a visual representation of their values, their interests, and how they respond to their surroundings.
They are essentially asking me to communicate to the world a message about themselves through the most visible, yet intimate, part of their family—their home. 
CALL-TO-ACTION (FUNCTIONALITY)
In advertising, you communicate a call-to-action, which is essentially what you want people to do.  You want them to buy something, go somewhere, vote (or don't vote) for someone.  Interior Design does the same thing in a space.  It communicates that you want people to sit and talk a while.  It communicates that we're about to have a party and everyone's invited!  It says join me in the kitchen and we'll make cinnamon rolls, or homemade pasta, or simply serve up some Chinese take-out because we're just too busy to cook.
The message of the space tells who you are.  I like the outdoors.  I like to travel and have reminders of where I've been. I like to host small groups for my church. I'm not a showy person.  I like clean and crisp and not a lot of frou frou.
Balance keeps the space in congruence with our internal need for order by using proper use of scale and incorporating enough white space for our minds to rest and relax.
The functionality of a space is usually the first thing that people are thinking of when they think of a room.  It's a bathroom.  I want to take a bath.  Or, I don't want to take a bath but I do want to have long, hot showers and be able to have my coffee cup in there with me (true story, by the way.  And we did!)   Content, balance, scale and white space don't mean a thing if the room doesn't do what you want it to do.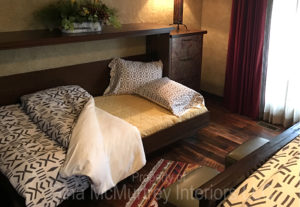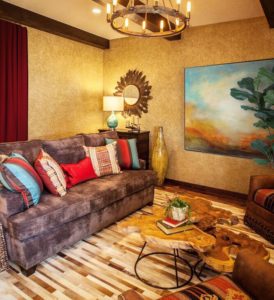 One client's goal for their 2nd home was to create a family retreat, which meant nearly every room needed to accommodate sleeping.  Tricky.  Without sacrificing the unseen—but completely felt—aspects of design, we brought in hidden beds in the form of Murphy bed and sleeper sofas.  Open living spaces were outfitted with drapery for privacy, but were completely appropriate when open and used as a sitting area.  They wanted their family to sit and talk…AND stay overnight and feel comfortable.
While I have been a designer for close to 10 years, I have gained experience over the course of 25 through my time spent in advertising.  This thoughtful approach to design has been a fulfilling way to connect my art with the needs of my clients.
•
Continue on with this series:
How Marketing Principles Have Influenced My Interior Design Philosophy: Content

How Marketing Principles Have Influenced My Interior Design Philosophy: Balance

How Marketing Principles Have Influenced My Interior Design Philosophy: Scale & White Space