Have a "StayCation" Every Day of the Year!
Ah, the economy.   What a crazy ride it's been for the past couple of years.  I'm no economist, or financial guru, but it's clear to see that people's habits are changing.  Things seem to be scaled down if purchases are being made or vacations are being planned, or these things are being cut out all together.
A "StayCation" is where vacation time is spent at home, rather than traveling.  I love to travel.  I love seeing new cities, visiting neat hotels, and experiencing different cultures.  But I ALWAYS love to come home to my own bed.  One thing you can do to make your StayCation more enjoyable and not feel like you're losing the pampering is to create a vacation experience in your own home!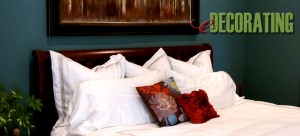 Rule #1: Get the best sheets that you can afford.  That may be the 650-TC sateen sheets from Walmart or "Millennium" Egyptian cotton sheeting from Sferra.  When you visit a luxury hotel…and even some budget hotel chains are finally getting with the program… the objective is the sleep experience.  Super soft sheets combined with a nice bed topper will give you a vacation-at-home experience night after night.

Rule #2: Declutter.  Put it away and keep it away.  If you don't use it, get rid of it.  Vacations and holidays provide a respite from responsibilities, including cleaning, organizing, and the daily hum-drum.  Invest in storage containers that slide under the bed.  Remove unnecessary furniture and pare down the accessories.  Cleanse your space and cleanse your mind.  It's not ancient Hindu wisdom…it's Gina.  And it works.

Rule #3: Play on your senses.  I've mentioned this before, but pay attention to all aspects of how you interact with your room. Bring in a wall-mounted oil burner with lavender or vanilla and turn on some soothing ambient music and drift off into a living daydream.

Rule #4: Mimic the environment where you want to be.  Granted, if you live in a land-locked state like I do, Floridian palm-tree motifs and wicker everything is going to look out of place.  Take the natural environment colors as cues and don't take the "look" too literally.  If you love Vegas, adding neon lights to your living room might be a little much.  But, bringing in bold colors, dramatic accents, luxurious accessories and art can give your home the "feel" and excitement of  the city without risking finding an Elvis impersonator under a couch cushion.

Rule #5: Consider outside spaces.  Another wonderful part of vacation is spending time around the pool, on the beach, relaxing on the veranda or balcony with a cold drink, a good book, or to just enjoy the scenery.  Invest in a decent set of outdoor loungers and a patio table and chairs…with an umbrella.  And then USE them!  Have a fruity drink.  …with an umbrella.

A StayCation doesn't have to be a down-grade.  Your home could be the place you WANT to be.
•
If you need some direction on transforming your home from the place you retreat
from
to the place you retreat
to
,
eDECORATING
could be just what you need!
For a reasonable and fixed price, you can receive a custom floor plan, shopping list, and instructions on how you can create your vacation look in your home.
•