DIY FRIDAY: Painted Indoor/Outdoor Rug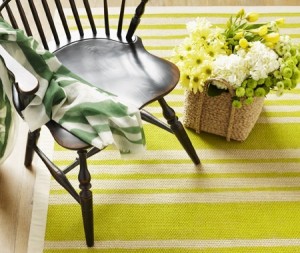 Extend your living space to areas beyond your walls by treating your patio or porch the same way you would your living room.  Seating arrangement should encourage conversation, and a great focal point and anchor to that area is to incorporate an area rug.
By using a sisal rug that is specified for outdoor use (you can find them for under $100 at Lowe's or online at Home Decorator's Outlet) and by using outdoor paint, you will ensure that your designs will not bleed or the rug itself mildew and deteriorate.  Add a pop of color if your area is neutral, or have the freedom to coordinate with hard to match cushions and pillows.  Make it your own!
(Directions below are for the photo example by Canadian House & Home magazine; Author: Stacy Begg)
MATERIALS
Edged, flatwoven sisal rug

Quart of latex paint (use outdoor paint if you plan to use the rug on a deck outdoors)

Small foam roller

Painter's tape

Tape measure

Chalk
STEP ONE: MAP OUT A PATTERN
To start, map out lines with chalk, then mark them with painter's tape. I made groupings of painted lines — 1″ and 6″ wide — and spaced them about 1 3/4″ apart. For best results, the lines should follow the rug's natural grain.
STEP TWO: PAINT ON STRIPES WITH A SMALL ROLLER
Before painting, make sure the tape is securely stuck to the rug. If the rug has a fabric border, cover it with tape to ensure a crisp, clean edge. Using a small foam roller, paint the rug between the strips of tape. I considered using sorbet shades but ultimately fell for Sherwin-Williams High Strung (SW6705), a fresh, summery green.
STEP THREE:  LET DRY AND REMOVE TAPE
Apply three to five coats of paint, allowing rug to dry between coats. Dry overnight and remove tape in the morning. I love this look for a cottage bedroom, a screened-in porch or a casual living room that needs a bit of colour. Keep in mind that sun, rain and heavy foot traffic may eventually cause the paint to chip or fade.
DESIGN IDEAS

Brightly colored flowers if your area is not conducive to planting
Have your kids help with hand prints, roads and "cities" for toy cars & trains, or their own artwork for a fun outdoor play area
Stencil an oversize monogram in a coordinating neutral for an elegant, yet understated look

** This would be a great idea for a damp bathroom also! **
WHAT SIZE OF RUG SHOULD YOU GET?
Make sure the rug slightly larger than the area of your furniture arrangment.  The front feet of your seating should overlap the rug and there needs to be at least 18″-24″ between furniture (chair-to-chair or sofa-to-table) for traffic flow.