Decorations meant for Lady Gaga or Bass Pro Shops?
Believe it or not, Christmas decorations are out.  Yes, it's 100° outside, but craft stores and accessories catalogs are already showing this year's holiday decorations.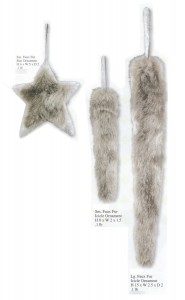 90% of the time, I really like what Barreveld/DK Living has to offer, but when I got the new fall catalog last week and saw these fur ornaments I was left scratching my head.  I mean really…FUR ICICLES?  SERIOUSLY?  Living here at the home of Bass Pro Outdoor World, I can appreciate rustic decor like anyone, but I don't know about this.  It looks like PETA's version of "A Nightmare Before Christmas", or something that Lady Gaga would have on her tree…or possibly make into earrings.   Now the little stars are starting to grow on me…
Just kidding.
What do you think?  Love it, or hate it?