Timing is everything!
I delivered a rug to a client just in time to taste-test her awesome pre-Thanksgiving cooking!
I couldn't have timed it better!
Besides trying her fantastic roasted turkey gravy, she was making her famous Cranberry/Pear Relish. It is so famous, her friends had already begun calling to see if she was making it this year.
Her house smelled amazing — cranberries, cinnamon, nutmeg and allspice. The perfect spicy/sweet that says the holidays are here.
She has allowed me to share this wonderful side dish with you! I hope you enjoy this dish and your holiday season!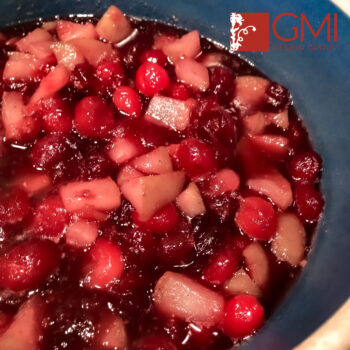 Cranberry / Pear Relish
If the amazing scent of cranberries and spices doesn't get you, the bold flavor will!
Ingredients
1 1/2

Cup

Sugar

1/2

Cup

Water

3

Cup

Cranberries

(1 bag)

2

Pears

cubed

1/2

tsp.

Nutmeg

1/2

tsp.

Allspice

4"

Cinnamon Stick

(or 1/2 tsp ground cinnamon)
Instructions
Combine sugar and water in saucepan.

Bring to a boil. Boil rapidly uncovered for 5 minutes.

Add the cranberries, pears, and spices.

Return to a boil, stirring often, for 3-4 minutes, or until cranberry skins pop.
Original post: November, 2013