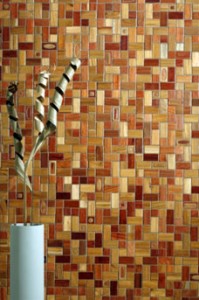 While browsing through the tile showroom today, I was stopped in my tracks by something gorgeous and unexpected.  Wood tile mosaics — in rich tones of pine and mahogany, cherry and teak.  Some straight-run sheets of uniform 1/2″ squares, yet other random cuts with multiple varieties and others with intricate inlay patterns as a border.
The possibilities swirled in my mind.  I'm such a huge fan of wood with the warmth and neutrality it provides for every style.  It's such an anchor for a space and the unique application of wood in tile form spurred my creativity.  In further study of this product, I appreciated the fact that what was once waste discarded by flooring and furniture companies is now reclaimed into these wood mosaic sheets.  Of course, using sustainable species–such as bamboo and teak–is an additional bonus.
While not all woods are appropriate for all locations, some species are more suitable for damp locations such as bathrooms or spas.  In addition, special care would need to be taken when using wood for a backsplash in a kitchen as grease and chemicals could discolor the finish.  However, with the correct sealants, regular gentle cleaning, and special grout to accommodate the natural expansion and contraction of wood, using wood tile mosaics on your walls could add that little extra "wow" factor your space needs.
Wood mosaics run from $40-$65 per square foot and up, depending on the species and pattern.