The Most Beautiful Home in the World
Perspective is an interesting thing.  One minute you think you know something, and then the next, the lens shifts and you see things completely differently.
I recently went on a mission trip to Haiti. This wasn't my first time in the country, but each visit shows me something new…mostly new things to be thankful for! There's nothing like unbelievable nationwide poverty to set your thinking straight! I was also reminded of the warmth and generosity of the Haitian people, and humbled that even though we were there to serve and provide for them, they too prayed over and encouraged us. 
This time, however, I was able to see the most beautiful home in the world.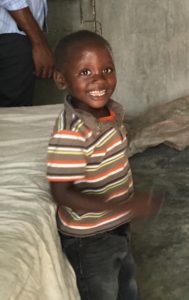 We have been sponsoring a little boy for the past couple of years.  Gawendy was only 2 1/2 when we began, and when I visited Haiti in January 2015, he showed clear signs of malnutrition:  lethargy; pale, red hair; skinny little arms and legs. Part of our sponsorship was to provide him with regular food, clothing and shoes, as well as access to the medical and dental clinic on the mission grounds. He was also enrolled in the preschool and would be automatically admitted to the school once he turned 5.
I was able to visit their home that January. He and his mother, along with six siblings and an elderly grandmother, lived in a single-room shack on the side of a mountain, and it was made of whatever materials they could find…random pieces of corrugated metal, tarps, scrap wood and mud. The floor was dirt.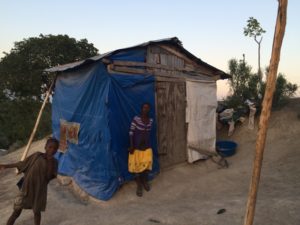 There was a simple wooden door and no windows.  His mother, widowed when she was pregnant with him, shared a tiny twin bed with broken box spring and no mattress. The rest of the children, ranging from 2 to 17, shared another twin bed. Cooking was done outside over a fire pit (when there was food) and there was no plumbing or bathroom.  Water was collected daily at a tap down at the base of the mountain.  It was unthinkable that anyone, let alone 9 people, could live in such a tiny, unstable, unsecure home. 
That following summer, we were able to provide the funds to build Gawendy and his family a home.  For less than $5,000, sponsors can have a two-room concrete block home that is structurally sound against hurricanes and earthquakes (not one of these homes fell during the big earthquake of 2010!) and secure against the threat of theft.
I've been to many new homes and have seen some amazing architecture and interior design. Nothing…and I mean nothing…was as beautiful as this home or the smiles of those who lived in it. They were so proud, and had clearly swept the two rooms clean and had even been able to get a full bed that was in good shape! A simple white curtain hung in the back door where Gawendy, his mother, sisters and a new little baby sister stood and smiled broadly.
This home meant safety. This home meant security. This house meant provision from God. And, oddly enough, in that culture, it also meant an elevation of status which also helps in their daily struggles!
Of all the homes that I've been a part of, I'm blessed the most to have been a part of this one.  Renovating a kitchen or updating furniture is great, and even sometimes functionally needed.  But this family's life was changed.  And so was mine.